FRAM and nvSRAM protect critical data during power failure.
Press Release Summary: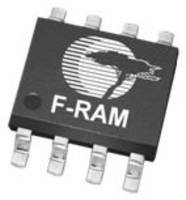 Ferroelectric-RAM (F-RAM™), energy-efficient NVRAM (nonvolatile random access memory)Â technology, offers 100 trillion write cycle endurance. Ferroelectric material resists data corruption caused by radiation or magnetic field exposure. Providing data retention without additional batteries, nonvolatile static RAM (nvSRAM) offers access times as low as 20 nsec and unlimited endurance and uses charge stored on external capacitor. Densities range from 256 Kb to 4Mb (F-RAM) and 1–16 Mb (nvSRAM).
---
Original Press Release:
Cypress Supports Wafer Sales on Leading F-RAM and nvSRAM Portfolio
Brings Added Flexibility to Mission-Critical Applications Requiring Nonvolatile Memory in Specialized Packaging

SAN JOSE, Calif. -- Cypress Semiconductor Corp. (Nasdaq: CY), today announced the addition of wafer products to its industry-leading nonvolatile random access memory (NVRAM) portfolio. Cypress's NVRAM portfolio, which includes Ferroelectric-RAM (F-RAM(TM)) and nonvolatile static RAM (nvSRAM) devices, offers reliable protection of critical data during a power failure. Many mission-critical applications that require the unique benefits of F-RAM and nvSRAM also require bare die for small or unique packaging options. More information about Cypress's NVRAM portfolio is available at http://www.cypress.com/nonvolatile.

Cypress F-RAM is the most energy-efficient NVRAM technology in the industry with a virtually unlimited 100 trillion write cycle endurance. The ferroelectric material in F-RAM memory cells is highly resistant to data corruption caused by radiation or magnetic field exposure, providing soft error rate immunity for medical, aerospace and defense applications. Cypress nvSRAM is the fastest NVRAM technology in the industry, with access times as low as 20 ns. It provides nonvolatile data retention without the need for additional batteries and also provides unlimited endurance.

"Enabling wafer sales for our NVRAM portfolio allows us to address a wider range of customer needs," says Sonal Chandrasekharan, Senior Business Unit Director of the Nonvolatile Products Business Unit at Cypress. "Customers can now take advantage of the high performance of nvSRAM or energy efficiency of F-RAM in the exact form factor they require for a specific application."

About Cypress F-RAMs
Cypress offers a broad portfolio of F-RAM products with densities from 4Kb to 4Mb and supply voltages from 2.0V to 5.5V. Cypress F-RAMs feature virtually unlimited endurance of one-hundred trillion read and write cycles, making them an ideal solution for write-intensive applications. F-RAM is the industry's most energy efficient nonvolatile RAM solution; the F-RAM cell is inherently low power and operates without a charge pump. Cypress F-RAM is an ideal solution for applications requiring high-performance, high-reliability, low-cost nonvolatile memory solutions, including automotive, industrial, computing, networking, smart meter, and multifunction printer applications.

About Cypress nvSRAMs
Cypress's nvSRAMs use charge stored on an external capacitor instead of a battery, making the devices compatible with standard PCB assembly processes. Cypress's nvSRAMs are ROHS-compliant and directly replace SRAM and battery-backed SRAM (BBSRAM) products, offering fast non-volatile data storage. Data transfers from the SRAM to the device's nonvolatile elements take place automatically at power down. On power up, data is restored to the SRAM from the nonvolatile memory. In networking, industrial, computing and RAID applications, nvSRAMs offer high-speed data transfer while ensuring data integrity in case of power outages, without the need for a battery.

Availability
Cypress supports wafer products in 256Kb to 4Mb F-RAM densities and 1Mb to 16Mb nvSRAM densities for select customers today. To view more information on current support, go to www.cypress.com/products/f-ram-and-nvsram-wafer-and-die-support. Cypress can provide wafer support on additional nonvolatile RAM products for interested customers. Direct questions on support to nvramwafersupport@cypress.com.

Follow Cypress Online
--  Read our Core & Code technical magazine and blog.
--  Join the Cypress Developer Community.
--  Follow @CypressSemi on Twitter.
--  Visit us on Facebook and LinkedIn.
--  Watch Cypress videos on our Video Library or YouTube.

About Cypress
Cypress (NASDAQ: CY) delivers high-performance, high-quality solutions at the heart of today's most advanced embedded systems, from automotive, industrial and networking platforms to highly interactive consumer and mobile devices. With a broad, differentiated product portfolio that includes NOR flash memories, F-RAM(TM) and SRAM, Traveo(TM) microcontrollers, the industry's only PSoC(®) programmable system-on-chip solutions, analog and PMIC Power Management ICs, CapSense(®) capacitive touch-sensing controllers, and Wireless BLE Bluetooth Low-Energy and USB connectivity solutions, Cypress is committed to providing its customers worldwide with consistent innovation, best-in-class support and exceptional system value. To learn more, go to www.cypress.com.

Cypress, the Cypress logo, PSoC and CapSense are registered trademarks and F-RAM and Traveo are trademarks of Cypress Semiconductor Corp. All other trademarks are property of their owners.

CONTACT: Samer Bahou, Cypress PR, (408) 232-4552, samer.bahou@cypress.com
More from Paints & Coatings