Fracturing Fleet directly employs sound reduction technology.
Press Release Summary: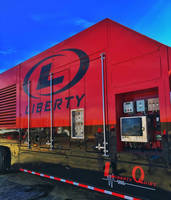 Without impacting operational performance levels or rig up time, Quiet Fleet™ reduces noise emissions during hydraulic fracturing operations. Design also allows for incorporation of 3-stage fire suppression system on each unit. Benefits from decreased noise include lessened nuisance factor, fatigue and stress reduction for onsite personnel, as well as flexibility of pad location and operational hours.
---
Original Press Release:
Hydraulic Fracturing Gets Quiet
Liberty's patent pending Quiet Fleet™ technology is 3X quieter than a conventional fracturing fleet

DENVER -- Liberty Oilfield Services ("Liberty"), a privately-held pressure pumping services company, is pleased to announce the release of its new Quiet Fleet™.  The Quiet Fleet™ utilizes patent-pending Liberty-developed sound reduction technology incorporated directly into fracturing equipment to dramatically reduce noise emissions during hydraulic fracturing operations. Noise levels are reduced by a factor of 3 compared to a conventional fracturing fleet, far more effective than costly sound walls.  This noise reduction is achieved without any impact to operational performance or rig up time.  The new design of the Quiet Fleet™ also allowed the incorporation of a sophisticated three stage fire suppression system on each unit, which is not viable on a conventional fracturing fleet.

Liberty's Quiet Fleet™ was recently deployed in the DJ Basin for Extraction Oil & Gas, where results met or exceeded all expectations. The Quiet Fleet™ completed 210 frac stages in the first 10 days of operation. Extraction President Matt Owens stated, "The Quiet Fleet™ marks a new era of evolution for completion equipment design.  Quite simply one of the best advancements that I have seen in my career."  Liberty CEO, Chris Wright, commented, "Ever since we began fracturing operations in Colorado three years ago, we have focused on innovation that addresses the three biggest impacts on local communities:  noise, dust, and truck traffic.  We are making big progress on all three.  The Quiet Fleet™ is the culmination of two years of Liberty engineering effort."

About Liberty
Liberty Oilfield Services was founded in 2011 with a relentless focus on improving tight-oil completions.  Liberty has a unique culture that has resulted in differential performance for our customers and far better safety performance and far lower employee turnover than industry averages.  Liberty has a heavy focus on customer partnerships and technology to find innovative answers to frac optimization for each area of each basin.  Liberty operates in the Williston, DJ, Powder River, Permian and Eagleford Basins. Liberty is a privately held company with headquarters in Denver, Colorado. For more information about Liberty Oilfield Services, please visit www.libertyfrac.com

For more about The Quiet Fleet™, please visit http://www.libertyfrac.com/news/liberty-quiet-fleet/29

CONTACT: For media & general inquiries, VP Technology & Development, Ron Gusek, 303-515-2823, ron.gusek@libertyfrac.com, or for sales inquiries, VP Sales, Tom Riebel, 303-515-2819, tom.riebel@libertyfrac.com
More from Material Handling & Storage