FPGA-based Application Accelerators suit harsh environments.
Press Release Summary: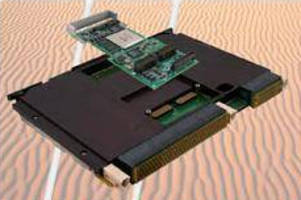 Utilizing 6U VPX-REDI form factor, CHAMP-FX2 is based on 2 Xilinx Virtex(TM)-5 FPGAs, floating-point capabilities of Freescale 8641D dual-core PowerPC(TM) processor, and flexibility of Serial RapidIO switching fabric. Mezzanine module, XMC-442, combines Xilinx Virtex-5 SXT (SX50T/SX95T) FPGA, serial switched fabrics, and various I/O options. Both products have passed testing at ruggedization Level-200 temperature, shock, and vibration specifications for deployment in military environments.
---
Original Press Release:

Curtiss-Wright Controls Announces Successful Environmental Testing of CHAMP-FX2 VPX and XMC-442 FPGA-based Application Accelerator Modules



Company's Highest Performance Heterogeneous FPGA/DSP-based VITA 46 Board and FPGA Compute XMC Module Were Qualified Over Harsh Temperature Ranges, Shock and Vibration Testing

LEESBURG, VA -- June 30, 2009 -- Curtiss-Wright Controls Embedded Computing, a leading designer and manufacturer of rugged deployed commercial off-the-shelf (COTS) VME, VPX and CompactPCI products for the Aerospace and Defense market (A&D), has announced the successful testing and qualification of its CHAMP-FX2 VPX FPGA-based processing board and its XMC-442 FPGA compute module. The CHAMP-FX2 and XMC-44 successfully passed testing at the highest ruggedization Level-200 temperature, shock, and vibration specifications, thus setting a new benchmark for processing performance in the rugged COTS market. With their successful testing, the CHAMP-FX2 and XMC-442 join the growing ranks of Curtiss-Wright Controls high-performance, rugged VPX and XMC modules qualified for deployment in harsh military environments.

"The successful qualification of our CHAMP-FX2 and XMC-442 modules further enhances Curtiss-Wright Controls' ability to deliver high-performance, high-power, rugged-deployed FPGA-based solutions," said Lynn Patterson, vice president and general manager ofModular Solutions, Curtiss-Wright Controls Embedded Computing. . "We are committed to offering the market's most advanced, rugged reconfigurable computing solutions."

Vigorous, Demanding Tests
The CHAMP-FX2 and XMC-442 were subjected to a battery of harsh environment testing to ensure their survivability in A&D applications where extreme conditions may range from the heat of a desert tarmac to the intense cold of high-altitude flight. These tests included operating over the -40°C to 85°C card-edge temperature range. The conduction-cooled cards were also subjected to, and successfully survived, 40g shock, 10g sine vibration, and 0.1g2 random vibration tests. Both the CHAMP-FX2 and the XMC-442 were tested together, and their processor and FPGAs were configured to perform very demanding application-like test codes to maximally stress their designs.

Temperature testing for the boards validated their Continuum FXtools IP cores for operation over the full range of military application temperatures. Curtiss-Wright Controls' Continuum FXtools is an extensive design kit designed to speed FPGA development. It comprises optimized, extended temperature IP blocks for all of the board's hardware interfaces, enabling the integrator to focus on the productive development, simulation and test of algorithms. Full details of the environmental specifications are available here.

For further information on the CHAMP-FX2 and XMC-442 test results please contact Curtiss-Wright Controls sales at sales@cwcembedded.com.

High-Density Computing through FPGAs
The adoption of FPGAs into rugged applications continues to increase at a rapid pace thanks to a number of factors including enhanced support for high-speed I/O and improved tools for multiprocessor system development. In military applications such as radar and SIGINT, FPGAs are being used to augment, and sometimes even replace, general-purpose processors (GPPs) or DSPs, thanks to their vastly larger gate counts, specialized DSP units, embedded processors and high-speed serial link. Their flexibility and computational performance per watt also make them an attractive choice for systems with tough size, weight and power (SWaP) constraints.

The CHAMP-FX2
The CHAMP-FX2 is Curtiss-Wright Controls' next-generation FPGA-based computing platform. Utilizing a 6U VPX-REDI form factor, the CHAMP-FX2 harnesses the tremendous computing power of two Xilinx Virtex(TM)-5 FPGAs, combined with the high-performance floating-point capabilities of the Freescale 8641D dual-core PowerPC(TM) processor and the exceptional performance and flexibility of a Serial RapidIO switching fabric to deliver unprecedented computational densities. With multiple large DDR2 SDRAM and fast QDR-II+ SRAM blocks (>13 Gbytes/sec total FPGA memory bandwidth) and several on-board and off-board RocketIO(TM) serial ports, the two FPGA nodes provide a balanced mix of processing capabilities with memory, inter-FPGA, and off-board bandwidths.

CHAMP-FX2 Features:

6U VPX-REDI

Two Xilinx Virtex-5 Platform FPGAs (LX110T or LX220T)

512 Mbytes or 1 GB DDR2 SDRAM per FPGA in two banks (1-2 Gbyte total on-board) running at 275 MHz, 4.4 GB/sec peak bandwidth per FPGA

36 Mbytes QDR-II+ SRAM per FPGA in four banks (72 Mbytes total on-board) running at 275 MHz, 8.8 GBytes/sec peak bandwidth per FPGA

4-lane RocketIO connection between the two FPGAs

1 GHz 8641D dual-core 8641 processor with 512 Mbytes of DDR2 SDRAM in two banks

XMC mezzanine site

On-board Serial RapidIO switch with 4-lane connectivity to the PowerPC and each FPGA and four 4-lane ports to the backplane

Two 4-lane RocketIO ports to the backplane (one for each FPGA)

512 Mbytes Flash for PowerPC or FPGA code or user files

Support for ChipScope Pro and JTAG processor debug interfaces

Continuum FXtools developer's kit offers Continuum Firmware and BSP, FX2-specific software libraries, BIT, highly-optimized IP blocks, reference designs, and a scriptable simulation testbench

Serial RapidIO Endpoint block available

Camera Link IP block available

Low and high temperature-qualified IP blocks

Continuum IPC middleware and Continuum Vector algorithm libraries available

Air-cooled and conduction-cooled versions

Priority Signature Support available. See the Technical Support Factsheet for details (registration required).

The XMC-442
The new XMC-442 mezzanine module combines the flexibility of a Xilinx Virtex-5 SXT (SX50T/SX95T) FPGA, the high bandwidth of serial switched fabrics such as PCI Express and Serial RapidIO (SRIO), and rich I/O options. It significantly speeds the integration of high-performance FPGA-based custom calculation blocks onto embedded platforms that feature on-board XMC sites, such as VPX, VME and CompactPCI boards.

XMC-442 Features:

Single Virtex-5 SX50T or SX95T FPGA

One bank of DDR2 SDRAM, 256MB total

Two banks of QDR-II+ SRAM, 18MB total

Three high-speed serial connections to the baseboard
Personality module for customized I/O

Optimized for ultra-high performance signal processing

Continuum FXtools developer's kit: provides optimized and temperature-qualified IP block libraries including memory controllers and a PCI Express core, reference designs, simulation test benches, BIT routines and software libraries

Serial RapidIO end-point IP available

Performance benchmarking reports are available. For more information on CHAMP-FX2 click here and for the XMC-442 click here.

Inquiries: Please forward all Sales and reader service inquiries to Jerri-Lynne Charbonneau, Curtiss-Wright Controls Embedded Computing, Tel: (613) 254-5112; Fax: (613) 599-7777; e-mail: sales@cwcembedded.com.

About Curtiss-Wright Controls Embedded Computing
Curtiss-Wright Controls Embedded Computing is the industry's most comprehensive and experienced single source for embedded solutions, ranging from Processing, Subsystems, Data Communication, DSP, and Video & Graphics to the most advanced board level components and fully integrated custom systems. The Embedded Computing group serves the defense, aerospace, commercial and industrial markets and is part of Curtiss-Wright Controls Inc.

About Curtiss-Wright Controls, Inc.
Headquartered in Charlotte, North Carolina, Curtiss-Wright Controls is the motion control segment of Curtiss-Wright Corporation (NYSE: CW). With manufacturing facilities around the world, Curtiss-Wright Controls is a leading technology-based organization providing niche motion control products, subsystems and services internationally for the aerospace and defense markets. For more information, visit www.cwcontrols.com.

Note: All trademarks are property of their respective owners.

More from Electronic Components & Devices