FPC Connectors combines retention force and design flexibility.
Press Release Summary: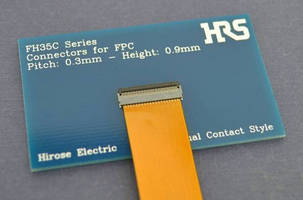 With design that provides high retention forces and allows for curved routing, FH35C Series is comprised of 0.3 mm pitch flexible printed circuit (FPC) connectors that are available from 9–51 positions and feature 0.9 mm mounted profile. Back flip style actuator utilizes dual-sided FPC and helps achieve impedance characteristics that allow use for high-speed transmissions and support both Embedded DisplayPort and MIPI standards. Mounted depth of 3.2 mm helps conserve space on PCB.
---
Original Press Release:

FH35C Series, FPC Connectors that Deliver up to 2.5 Times More High FPC Retention Force



HIROSE'S FH35C Series: A Space Saving FPC Connector That Supports High Speed Transmissions and Design Flexibility



SIMI VALLEY, CA — Hirose Electric, a leader in the development of innovative connector solutions, has developed a 0.3 mm pitch (FPC) flexible printed circuit connector that supports high speed transmissions and provides high retention forces.  The back flip style actuator utilizes dual-sided FPC and helps it to achieve the excellent impedance characteristics that allow it to be used for high speed transmissions and support both the Embedded DisplayPort (eDP ver.1.3) and MIPI (D-PHY) standards.  The high FPC retention forces are produced by its proprietary contact structure and its aforementioned highly reliable back flip actuator.  The FH35C Series delivers up to 2.5 times more FPC retention force than similar products offered by their competitors.  The high FPC retention force and back flip design also allow for curved routing of the FPC.



With a mounted depth of only 3.2 mm, the FH35C Series connectors will save a significant amount of space on the PCB.  The top and bottom contacts of the connector provide design flexibility for a wide range of applications, including smart phones, cameras & video recorders, notebooks & tablets, DVD & Blu-ray players, portable music players, handheld gaming systems, and small medical equipment.



"Suitable for flexed FPC connections, the FH35C Series is ideal for applications that require high-speed transmission and/or LED backlight connections," said Rick van Weezel, vice president of sales & marketing at Hirose Electric USA.



The bottom side of the FH35C Series features a fully-enclosed molded structure.  This provides added protection to the contacts and allows the space under the connector to be used for additional patterning.  The contacts have an additional nickel barrier to prevent solder wicking, and the clearance between the contacts and housing were designed to prevent the capillary migration of flux from the SMT leads to the contact points.  The FH35C Series also features a rugged actuator that confirms when the locking function has been completed, and delivers the security and reliability of a Hirose connector.



With a low mounted profile of 0.9 mm, the FH35C Series connectors are available from 9 to 51 positions (9, 11, 13, 15, 17, 19, 21, 23, 25, 27, 31, 33, 35, 37, 39, 41, 45, 49, 51), with an operating temperature range from –55 to +85°C.  In addition, the FH35C Series connector complies with halogen-free requirements and is RoHS compliant.



For additional information about the FH35C Series connectors, please visit: www.hirose.com/us.



ABOUT HIROSE ELECTRIC

Hirose Electric Co., Ltd. is a leading global supplier of innovative interconnects, with sales of approximately US $1 billion to customers worldwide.  Hirose employs advanced engineering services, superior customer support and worldwide manufacturing capabilities to provide value-based connector solutions for various industries including: telecommunication, consumer electronics, computer and automotive. More information can be found on Hirose Electric's corporate website at www.hirose.com/us.

More from Electrical Equipment & Systems