Four-String LED Driver delivers 150 mA per string.
Press Release Summary: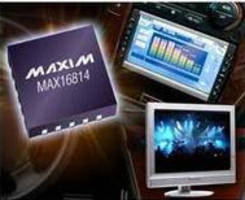 Suited for LCD TVs, monitors, and automotive displays, high-brightness MAX16814 integrates switching DC-DC controller to generate voltage required to drive multiple strings of LEDs. Four linear current sinks with internal power MOSFETs provide programmable current up to 150 mA per string. Delivering PWM dimming range of 5,000:1 with 200 Hz dimming frequency, MAX16814 optimizes display performance in all lighting environments. It includes thermal protection as well as open and short fault protection.
---
Original Press Release:

Maxim's New HB LED Driver Slashes Backlighting Costs in LCD TVs, Monitors, and Automotive Displays



Four-string HB LED driver features adaptive output-voltage optimization.

SUNNYVALE, CA-September 3, 2009-Maxim Integrated Products (NASDAQ: MXIM) introduces the MAX16814, a highly integrated four-string HB (high-brightness) LED driver capable of delivering up to 150mA per string. This device packs in all the features necessary to implement a high-performance backlight driver for LCD TVs, monitors, and automotive displays. Through this integration, the MAX16814 gives designers a cost-effective solution that greatly simplifies their lighting designs while offering unmatched performance.

The MAX16814 integrates a switching DC-DC controller to generate the voltage required to drive multiple strings of LEDs. It also features four linear current sinks with internal power MOSFETs to provide programmable current up to 150mA per string. An adaptive output-voltage control scheme optimizes efficiency and minimizes power dissipation in the LED current-sink paths. This architecture eliminates the need for multiple external components, thus saving space and easing design in space-constrained applications.

The MAX16814 is ideal for backlighting LCD TVs, desktop monitors, automotive displays and instrument clusters, and industrial displays. It is also well suited for automotive front lights and low-/high-beam assemblies, as well as other SSL (solid-state lighting) applications.

New requirements and challenges of backlighting LCD displays

HB LEDs are rapidly replacing CCFLs as the backlighting technology of choice in LCD TVs, desktop monitors, and automotive displays. The main drivers for this conversion are the lower energy consumption, smaller form factor, and higher reliability of HB LEDs compared to CCFLs; additionally, HB LEDs do not contain hazardous chemicals such as mercury.

Most of these applications use multiple LED strings and, of course, need to keep cost as low as possible. Multistring drivers present an excellent solution to these requirements, as they reduce cost and improve integration at the same time. However, their use presents a number of design challenges related to efficiency, power dissipation, dimmability, fault protection, and EMI (electromagnetic interference).

Optimizing efficiency and minimizing power dissipation while keeping the design simple

Multistring drivers are composed of a switching converter section and multiple linear current sinks. In order to optimize efficiency, the output voltage of the switching section must be set to the supply voltage required by each string of LEDs. Output-voltage optimization is critical for high-temperature applications (e.g., automobiles) that must minimize power dissipation to keep the circuit temperature at an acceptable level.

Whereas traditional drivers require a complex external circuit to set the output voltage, the MAX16814 performs this function internally. The device's adaptive output-voltage control scheme automatically detects the voltage required by the HB LEDs, thus ensuring the lowest possible power dissipation. This architecture improves integration and lowers solution cost substantially.

Extending the PWM dimming range for all ambient-light conditions

Applications that are exposed to changing ambient-light conditions require a wide dimming range. These applications must be able to accommodate lighting conditions that vary from intense sunlight to complete darkness to ensure optimal visibility throughout the day. This capability is even more important when the application is life critical, as is the case in automotive, industrial, and medical systems.

In most multistring drivers, the PWM dimming duty cycle cannot go below a certain minimum value due to the need to set the switching section's output voltage correctly. Consequently, these drivers are typically limited to a maximum dimming range on the order of 100:1.

The MAX16814 employs a unique, patent-pending technique to deliver an extremely wide PWM dimming range of 5000:1 with a 200Hz dimming frequency. It thus allows optimizing display performance in all lighting environments.

Ensuring reliability in life-critical applications

Life-critical applications demand extremely high reliability and fault tolerance. If an LED fails, it can suddenly short or become an open circuit. In both cases, the HB LED driver circuit must be able to protect itself and the electrical system around it, alert the electrical system of the fault condition, and minimize the effect of the failure for the user.

The MAX16814 features open and short fault protection. In the event that an LED shorts or becomes an open circuit, the driver detects the fault and automatically turns off the affected string, while keeping all other strings active. This protection scheme minimizes the effect of the failure and prevents further damage to the system. In both cases, an output pin signals the fault condition to the rest of the system.

Additionally, the MAX16814 features thermal protection to prevent damage to the circuit from over-temperature conditions. Combined with the device's high input-voltage capability and wide operating-temperature range, these fault protections virtually guarantee reliable operation in harsh electrical and thermal conditions.

Minimizing EMI

Electromagnetic compatibility is a common challenge for many applications. For example, one common EMI challenge in automotive applications is avoiding interference of an electronic circuit with the AM radio.

The MAX16814 allows users to program the switching frequency from 200kHz to 2MHz, thus enabling operation above the AM radio band. In addition, its oscillator-synchronization feature minimizes EMI noise when multiple MAX16814s are used in the same module. The device thereby reduces the number, size, and cost of EMI filter components required in the application.

The most integrated solution in the market

Simply stated, the MAX16814 provides the most integrated high-performance, high-reliability multistring HB LED driver solution in the market. Not only does it integrate all current-sink MOSFETs, but it also reduces the number of external components required by the design dramatically. With the MAX16814, no external circuitry is required to implement advanced functions such as automatic output-voltage optimization, open and short LED protection, and a wide-ranging PWM dimming.

Designers will benefit from a smaller solution footprint, lower BOM cost, and improved system performance. In addition, having a smaller number of external components will enhance system reliability by reducing the number of possible failure modes.

Additional HB LED driver benefits

For enhanced flexibility, the switching regulator can be configured as a boost or SEPIC converter; the voltage across the driven LEDs can therefore be either higher or lower than the supplied input voltage. Additional features include cycle-by-cycle current limiting, output overvoltage protection, and overtemperature protection.

The MAX16814 is fully specified over the -40°C to +125°C automotive temperature range, and its wide input-voltage range (4.75V to 40V) allows it to withstand 40V load dumps. The device is available in thermally enhanced, 4mm x 4mm, 32-pin TQFN and 20-pin TSSOP packages. Prices start at $1.39 (1000-up, FOB USA). For more information, please visit: www.maxim-ic.com/Backlight-Driver.

Maxim Integrated Products is a publicly traded company that designs, manufactures, and sells high-performance semiconductor products. The Company was founded over 25 years ago with the mission to deliver innovative analog and mixed-signal engineering solutions that add value to its customers' products. To date, it has developed over 6100 products serving the industrial, communications, consumer, and computing markets.

Maxim reported revenue in excess of $1.6 billion for fiscal 2009. A Fortune 1000 company, Maxim is included in the Nasdaq 100, the Russell 1000, and the MSCI USA indices. For more information, go to www.maxim-ic.com.

Customer Service: 1-800-998-8800

More from Electrical Equipment & Systems