Four-Quadrant Voltage Drop Simulator has pre-programmed waveforms.
Press Release Summary: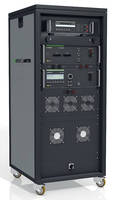 Used to simulate automotive battery simulation waveform requirements, VDS 200Q Series can source and sink current using programmed voltage in both positive and negative polarities. Amplifier generates dips and drops, short interruptions, and voltage variations to simulate phenomena occurring on vehicle wiring harness. Along with unlimited operation from -15 to +60 V, this DC voltage source offers <10 mΩ source impedance, 150 kHz bandwidth (full signal), and QuickStart feature.
---
Original Press Release:

Four-quadrant, Bi-polar Operation in New Voltage Drop Simulators from EM Test



VDS 200Q Series simulates numerous automotive battery simulation waveform requirements



EM Test introduces the VDS 200Q Series, a four-quadrant voltage drop simulator that can source and sink current using a programmed voltage in both positive and negative polarities.  The amplifier generates dips and drops, short interruptions and voltage variations to simulate a wide range of phenomena occurring on a vehicle wiring harness.



With unlimited operation from -15V to +60V, this powerful DC voltage source simulates a wide number of battery supply waveforms used by manufacturers in the automotive industry as well as for international quality standards.  Uses include military, avionics and automotive testing environments.



The VDS 200Q Series are fast bipolar amplifiers which operate across all four quadrants that sink as well as source current. This allows the new simulators to drive capacitive loads and absorb energy feedback from the device under test (DUT) up to the nominal current.



A very low source impedance of less than 10mΩ and a high bandwidth of 150kHz (full signal) enables these new sources to support low voltage drop, class-leading inrush current and extremely fast recovery.



The unique QuickStart feature allows parameters to be adjusted during test to evaluate the DUT's susceptibility level.  And, while many manufacturer-specific waveforms such as pulse 2b (per ISO 7637-2) and pulse 4 (per ISO 16750-2) are pre-programmed, adding an external signal generator allows the VDS 200Q to generate even more complex waveforms.



Test routines are quickly programmed using the intuitive front panel with menus and function keys. The optional ISO control software automatically configures according to the connected EM TEST generators and provides an easy to use interface for accurate control and reporting functions.  The EM TEST standards library is continually updated with the most current international and automotive manufacturers' standards requirements.



Technical Specifications

• Used for test according to Audi, BMW, ISO, Mercedes-Benz, SAE, VW and more

• Output range of -15V to +60V

• Covers supply voltage categories 48V, 24V, 12V

• VDS 200Q25: output current 25A; peak current 75A

• VDS 200Q50: output current 50A; peak current 150A

• VDS 200Q100: output current 100A; peak current 300A



For any further information please call AMETEK CTS Germany GmbH, +49 2307 / 26070-0, email info.cts@ametek.com or visit EM Test's website at www.emtest.com and http://www.ametek-cts.com.



About EM Test

EM Test, a subsidiary of AMETEK Compliance Test Solutions, is a leading global developer of EMC instrumentation and systems for conducted interference in the automotive, consumer and industrial electronics, telecommunications, medical, defense and avionics industries. With four product brands—EM Test, Teseq, IFI and MILMEGA - it offers the world's most comprehensive range of EMC systems for immunity and emissions testing. Its strong global service network with nine local accredited calibration labs ensures fast turn-around for calibration and repair. Production facilities are located on the Isle of Wight, UK, in Luterbach, Switzerland, Berlin, Germany and Ronkonkoma, USA. Sales and service offices are in Switzerland, Germany, UK, France, USA, Japan, China, Singapore and Taiwan. Accredited test laboratories are in Switzerland, Germany, UK, USA, Singapore, China and Japan.



For further information contact in Europe:

AMETEK CTS Germany GmbH

Lünener Strasse 211

59174 Kamen

Tel.: +49 (0)2307 / 26070-0

Email: info.cts@ametek.de



Editorial contact:

John Ellis

Proactive Marketing Communications Ltd.

Tel: +44 (0)1252 642444

Fax: +44 01252 676544

Email: john@proactive.uk.com





More from Fluid & Gas Flow Equipment