Four Door Container meets AIAG test guidelines.
Press Release Summary: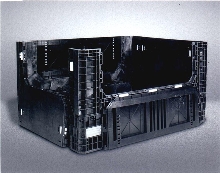 ROPAK(TM) 64.5 in. extended length four drop door model meets Automotive Industry Action Group's (AIAG) RC-9 Returnable Container Performance Test Guidelines for bulk containers. It accommodates long and hard-to-fit parts, such as automotive bumper reinforcements, plastic trim, and air ducts. Containers stack high, to conserve floor space; withstand years of repeated wear and handling, and are easily recyclable at end of their useful lives.
---
Original Press Release:
Ropak Extended Length Container With Four Drop Doors Has Been Tested And Meets AIAG RC-9 Performance Standards

GEORGETOWN, KY (March 25, 2002) - LINPAC Materials Handling's strong, durable ROPAK(TM) 64.5" Extended Length four drop door model has joined other ROPAK containers by being tested and meeting the Automotive Industry Action Group's (AIAG) RC-9 Returnable Container Performance Test Guidelines for bulk containers.

The testing, carried out by a certified third-party testing agency, validated the 64.5" x 48" container's ability to withstand the rigors of transportation and handling and meet AIAG's demanding qualifications.

The battery of tests, conducted over four days, included testing the container's strength against side impact. drop impact, vibration, compression and deflection of components when filled to capacity.

The AIAG, a globally recognized organization formed in 1982, continuously improves business processes and practices involving trading partners throughout the supply chain. Its container and packaging systems committee works to achieve consensus on common automotive industry rules for containers, including sizes, quality and testing procedures.

Designed with added strength and rigidity to accommodate long and hard-to-fit parts, such as automotive bumper reinforcements, plastic trim and air ducts, the long-lasting, durable ROPAK Extended Length containers protect and transport parts and products safely. The four drop door model has a latchless design and when opened, the lightweight doors lie flat against the outside of the container.

ROPAK Extended Length containers stack high, either upright or collapsed, to conserve floor space; withstand years of repeated wear and handling, and are easily recyclable at the end of their useful lives.

The reusable containers manufactured by LINPAC are used to replace single trip paper, cardboard and metal packaging. They are made of premium grade, high-density polyethylene (HDPE) and copolymer polypropylene (CPP) for durability, and are available in a variety of configurations and weight capacities. The ROPAK product line includes pallets, hopper bottom containers and collapsible and non-collapsible container models with footprints ranging from 32" x 30" to 70" x 48", and heights to 50". In addition, the Food Container Systems Division offers a full range of stack-nest, hand-held totes specifically designed for the retail grocery industry. LINPAC Materials Handling containers serve in a variety of industries, including automotive, plastics, chemicals, textiles, industrial equipment, appliance components, fresh produce, meat, poultry and retail grocery. A full range of design, implementation, financial and support services are available.

For more information, contact LINPAC Materials Handling, 120 Commerce Court, Georgetown, KY 40324. Phone: 1-800-442-4892 or (502) 863-5500. Fax: (502) 863-5342. Web site: www.LinpacMH.com

Please send all leads to:
Akcel Coss
LINPAC Mcaterials Hancdling
120 Commerce Ct.
Georgetown, KY 40324

More from Chemicals & Gases