Fosshield Technology Combats the Growth of Dangerous Microbes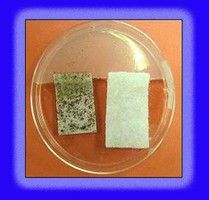 Continuous Natural Protection Against Bacteria, Mold and Mildew

HAMPTON, N.H. - Foss Manufacturing Company, a leading designer and manufacturer of non-woven fabrics and specialty synthetic fibers, announces its Fosshield® antimicrobial technology, the premier fiber technology that safely and effectively inhibits the growth of destructive and odor-causing bacteria, mold, mildew and fungus. A unique bicomponent polyester fiber that includes a silver and copper-based, inorganic antimicrobial additive in the outer layer, Fosshield is the optimum choice for those companies looking to enhance value and performance by providing permanent, natural, and effective antimicrobial protection in textile products.

The threat of germs and fungus poses increasing concern, and microbes like bacteria, mold and mildew can quickly spread to cause odor, discoloration and deterioration on a range of surfaces if left unchecked. When woven-in, Fosshield enhances the value of any textile by combating the growth of these microbes, thereby extending product life and maintaining a hygienically clean surface.

Fosshield is produced via a patented fiber technology. Unlike other antimicrobials that are applied via topical coatings, the additive in Fosshield is extruded as part of the fiber sheath during manufacture, providing the most effective exposure to damaging bacteria and fungi. Equally as important, it will not wear or wash off.

Fosshield utilizes two of nature's own antimicrobial solutions as its active ingredients. The synergy of silver and copper ions in combination has achieved reduction rates of greater than 99.99 percent against a broad range of undesirable bacteria, fungi, mold, and yeast. The additive, from AgION® Technologies, employs a proprietary method of encasing silver and copper ions in a zeolite cage, allowing for controlled release only when needed, resulting in long-term antimicrobial action on demand. This EPA-approved antimicrobial is chemical-free, non-toxic, safe for prolonged contact with human cells, non-leaching, environmentally safe, and does not contribute to the growing concern of antibacterial resistance.

Fosshield can be blended with a variety of other fibers, ranging from cotton to rayon, polypropylene to nylon. Fosshield fiber looks and processes like virgin PET staple fiber. It will not adversely affect yarn spinning or weaving. Additional additives such as fire retardant, stain resistance agents, pigment and UV stabilizer can be added during the manufacture of Fosshield. Foss Manufacturing offers custom color matching for all of its fibers, including Fosshield.

About Foss Manufacturing Company, LLC
Foss Manufacturing Company, LLC has been a global leader in the design and manufacture of non-woven fabrics and specialty synthetic fiber technology for more than 50 years. As one of the world's largest needle-punch based manufacturers, the company provides highly-specialized, cost-effective solutions that are custom-tailored to meet the needs of virtually all applications and markets. Foss is the leader in bringing new and improved non-woven products to market through its commitment to innovation and extensive research and development.

Based in Hampton, New Hampshire, all of Foss Manufacturing Company's business units are ISO 9001 and QS 9000 certified. For more information on Foss Manufacturing Company, visit http://www. fossmfg.com, call 1-800-343-3277, or write to info@fossmfg.com.

About Fosshield®
Consumers are becoming increasingly aware of the threat of germs and mold, and the damage microbes can cause in our homes, offices and cars. Recent market research targeting household purchasers confirms growing interest in antimicrobial protection of durable goods, and a willingness to pay a premium. According to the 2006 report A Global Overview of the Market for Specialty Biocides in Plastics, experts are projecting US growth rates of 25 percent annually for silver-based antimicrobial surface treatments over the next five years. Fosshield® is a humanity-friendly antimicrobial fiber that includes nature's own active ingredients, offering the peace of mind and convenience of a hygienically clean surface for the life of the product, no effort required. For more information on Fosshield, visit www.fosshield.com.

CAPTION FOR IMAGE: Fosshield3

"The fabric sample on the left is untreated polyester, while the sample on the right is polyester blended with Fosshield® fiber. Image courtesy of Foss Manufacturing Company, LLC"

More from Explosives, Armaments, and Weaponry