Forrest's Square-Top Woodworker II Blades Deliver Absolute 90° Bottom Grooves Without Score Marks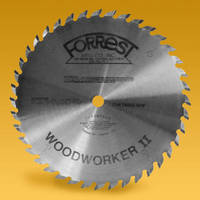 Serious Woodworkers Increasingly Recognize These Blades as Essential for Producing Quality Finger Joints, Box Joints, Rabbets, and Other Critical Cuts

CLIFTON, New Jersey-Jay Forrest, Vice President of Forrest Manufacturing, announced today that the company's two Square-Top Woodworker II blades continue to grow in popularity among woodworkers and serious hobbyists. "There was a time when these were regarded as non-standard or custom blades. But that's no longer the case. More and more craftsmen are relying on our Square-Top Woodworker II blades to create clean, scratch-free rabbets, square cut box joints, and finger joints. In fact, many customers consider these two table saw blades to be 'must-haves.' So it's unusual to find a well-equipped woodshop that doesn't have one or both on hand."

1/8" and 1/10" Grooves Without Score Marks
In discussing the popularity of the Square-Top Woodworker II Blades, Mr. Forrest says, "Woodworkers appreciate the fact that these quality blades create an absolute 90º square bottom groove with no scratches or score marks. Our 1/8" kerf blade cuts a 1/8"groove and our 3/32" kerf blade cuts a 1/10" groove. Increasing numbers of craftsmen rely on these Forrest blades for the professional-looking cuts they need to produce quality drawer bottoms, cabinets, shelving, and similar products."

When asked how the two blades compare to competitive products, Mr. Forrest said, "Other brands grind a square top. But our blades cut a square bottom. The reduced resistance makes Forrest blades less likely to produce splintering and tear-outs. Quality-minded woodworkers recognize this as a big advantage."

Both Square-Top Woodworker II blades have 10" diameters, 40 teeth, and a 5/8" bore. The Forrest catalog number for the 1/8" kerf blade is # WW10401125. For the 3/32" blade, it is #WW10401100.

30-Day, Money-Back Guarantee
Forrest blades-including Square-Top Woodworker II blades-are made with super-hard, corrosion-resistant C-4 micro-grain carbide. As a result, they are able to maintain their performance up to 300% longer between sharpenings.

In discussing his company's reputation for producing quality products, Vice President Forrest says, "We take the time and effort necessary to give our customers top value. Our proprietary grinding techniques and hand straightening guarantee the finest cutting edge possible. When you add to this the exceptional perimeter concentricity, perfect plate flatness, and side runout to +/- .001" of our blades, it's easy to see why they are so reliable. But that's not all. Customers can have complete confidence when making a purchase because we back our blades with a 30-day, money-back guarantee. In addition, we offer state-of-the-art factory sharpening-at very reasonable rates-to help protect and preserve the smart investment they've made in purchasing a Forrest product."

Made in the U.S.A.
Forrest Manufacturing, founded in 1946, is the only leading supplier of quality blades that continues to manufacture its products in the United States. The company is a family-owned business and firmly committed to providing friendly, knowledgeable customer service. Among Forrest's many custom and specialty blades are the Woodworker II, Dado King, Duraline, Concave Face, and nonferrous cutting blades.

Forrest blades can be obtained direct from the factory, as well as from quality dealers, retailers, and catalogs. For more information about Forrest products or its factory-sharpening, call 1-800-733-7111 or visit www.ForrestBlades.com.

More from Fluid & Gas Flow Equipment