Forney Industries Launches New Weld Machines for Easier Welding at Homes
Press Release Summary: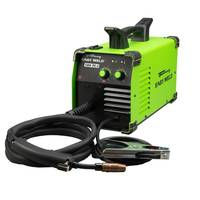 Forney Industries' Easy Weld Machines include 140 FC-i, 140 MP, 100 ST welding machines and 20 P plasma cutters. These machines are designed for do-it-yourselfer (DIY), auto enthusiast, metalworking artist and hobbyist for performing welding at home, in the garage, on the ranch or in the art studio. Units are operated with a standard 120-volt power source.
---
Original Press Release:
Perhaps the Perfect Gift for Mom is a New Welding Machine
With more women increasingly interested in welding, a new line of Easy Weld machines are now available making it easier to weld at home, in the garage, on the ranch or in the art studio.
FORT COLLINS, COLO. (PRWEB) MAY 09, 2018
You may be surprised to hear that the perfect Mother's Day gift this year may be a new welder. According to Forney Industries in Colorado, women interested in welding has increased exponentially in the past decade. "Tracking our own website, we can see that the number of women interested in our products and the industry has increased nearly 30% in the last few years," said Ron Ferguson, Chief Sales and Marketing Officer. "We have also witnessed an increase in the number of women applying for jobs with us and, in turn, we are hiring more."
The trend didn't get lost on Forney. In fact, the 80-year-old, family-owned metal working company has been developing a line of welding and plasma cutting machines for the at-home use for the past decade. "It's not to say women aren't proficient welders in the industrial setting, they are," said Steve Anderson, President and CEO of Forney Industries. "We anticipated this need years ago. Women and the at-home hobbyist want to be able to fix, create and build in their homes or garages. So, we developed and are introducing four new machines to expand our current Welding line." The Easy Weld welding machines and plasma cutters are ideal for the do-it-yourselfer (DIY), auto enthusiast, metalworking artist and hobbyist. The expanded line allows just about anyone the ability to use welding equipment in their garage with a standard 120-volt power source. 
According to Monica Pfarr, Executive Director of the American Welding Society's Foundation (AWS), "Although the numbers of women in the industrial welding is steadily increasing, we see the numbers of women interested and learning to weld in general increasing and exceeding that trend," said Pfarr. "Women are learning that welding is something that can be done at home, in the garage or in a studio, it's not limited to the industrial setting anymore."
The engineers at Forney have been working on this line of Easy Weld for years, adjusting the design and the quality to ensure that they are not only offering a line that produces the excellence that the customers expect, but is easy to use for those who have never welded. "We want to take the fear out of welding and demonstrate that it's not intimidating or expensive," added Anderson. "Historically, it has been only for those who are highly skilled and working in an industrial setting. But, for those who simply want to create art, fix something at home or do simple repairs on a car or lawnmower, they now have the ability to strike up a Forney Easy Weld machine and make it happen."
The Forney Easy Weld 140 FC-i, 140 MP, 100 ST welding machines and 20 P plasma cutter are all currently available for purchase online and at select retail outlets nationwide. They each operate on a 120-volt, standard outlet and retail under $400. "Our dealers have been asking for this line for years," added Ferguson. "Current DIY machines are difficult to use and require significant skill. Customers have been requesting to learn more about welding and wondering if it's something that can be easy to learn and done at home. We are confident that we have come up with that answer."
Safety is always paramount for Forney and this line is no different. "We don't want our customers to think that they can strike an arc and start welding immediately without taking precaution," said Anderson. "We encourage those who purchase one of our Forney Easy Weld machines to also take into consideration that welding gloves, certified welding helmets and fire-resistant clothing are essential when welding anywhere."
To get the novice welder started, Forney Industries offers online instruction that takes about an hour to review. This information can help a new welder gain confidence to begin welding. In addition, on ForneyInd.com, metalworking accessories, gloves and helmets can be purchased along with the machines. There are also many trade schools and community colleges nationwide that offer welding instruction if more guidance is needed.
Forney Industries is one of America's oldest family-owned, welding and metalworking product companies. Founded in 1932, the company began with the invention of the instant heat soldering iron and introduced the first publicly available arc welder in the mid-1930s. Today, the company offers around 9,000 products serving the automotive, hardware, farm & ranch, industrial and do-it-yourself markets. Headquartered in Fort Collins, CO, Forney Industries delivers products to all 50 states through its extensive customer service network. Forney Industries is committed to providing the best product mix and most personal support services available today. For more product information, visit http://www.forneyind.com. 
Contact Information
Ron Ferguson
Forney Industries
http://www.forneyind.com
+1 970-494-6856
Jackie Brown Griggs
JBG Communications
303-300-2255
More from Architectural & Civil Engineering Products