Forklift Device prevents transmission abuse.
Press Release Summary: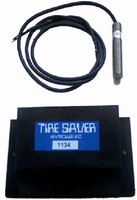 Designed for Toyota, Cat, Mitsubishi, Nissan, Doosan, and Komatsu lift trucks, plug-and-play N-Series TIRE-SAVER also extends tire life on forklifts by not allowing directional change if vehicle speed or engine rpm is above setpoint. Kit consists of controller module to set speed and engine rpm threshold, controller module to fool vehicle management system computer, wire harness to connect to alternator, and wire harness to connect to directional solenoids.
---
Original Press Release:

Tire-Saver New "N" Series for Forklifts



KEYTROLLER 's TIRE-SAVER new "N" series device is now quick fit-- "plug and play"--
for new model Toyota, Cat, Mitsubishi, Nissan, Doosan, and Komatsu lift trucks. It will
install in minutes, allowing salesmen to demonstrate the effectiveness of the device to their customers quite easily. Older existing model TIRE-SAVERs will fit to any other model gas, LPG, or diesel lift trucks with electrically actuated directional control.

TIRE-SAVER prevents all transmission abuse and significantly improves tire life on forklifts and other industrial vehicles by NOT ALLOWING DIRECTIONAL CHANGE--- if the vehicle speed or engine RPM is above the setpoint. .

How it works: When an operator tries to reverse vehicle direction when speed or engine
RPM is above the setpoints, the TIRE-SAVER will NOT allow the directional change to take place and the vehicle will continue in the same direction as if it were in neutral. This forces the operator to brake until speed/RPM is reduced below the setpoints ---then direction change is allowed.

Customers report up to a 400% increase in tire life because the tires are not reversing and burning to slow the machine. That is like getting 4 tires for every one you buy!!! Additionally the vehicle mass is not being transferred to the transmission---significantly improving transmission life. This is a huge benefit to high cycle forklift users and can make a dealer's lift truck much more attractive to an end user who is burning up tires and transmissions.

Since many new series lift trucks already have a speed sensor----simply plug into this speed sensor connection ----and the cost of the device and installation time is reduced. Both controllers connect to vehicle management connection at the right side of the transmission.

Alternators with tack lead connections make installation event simpler, if there is no tack lead for RPM input, one must be added to the alternator at installation.

The new N series device kit consists of:
1. Controller module to set speed and engine RPM threshold
2. Controller module to "fool" vehicle management system computer
3. Connection wire harness to connect to engine alternator
4. Connection wire harness to connect to directional solenoids

For more information view website: www.keytroller.com or contact
KEYTROLLER, LLC. 813-877-4500 or email: info@keytroller.com

More from Controls & Controllers