Fork Protector prevents excessive wear of fork bottom.
Press Release Summary: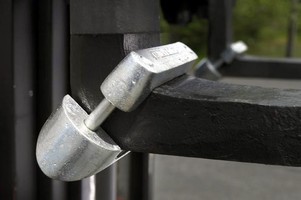 Clamping over fork heel and elbow area, FORK PROTECTOR has sacrificial steel alloy casting that wears in place of fork. Tightened side screws and casting's internal radius prevent slippage of device, and it can be used until both sides of sacrificial alloy wear out. Model R comes with rubber bumper, Model M with low profile metal top, and both are available in 4, 5, and 6 in. widths. Protector can be installed on any internal combustion or electric forklift.
---
Original Press Release:

KEYTROLLER, INC. Announces the Release of it's New FORK PROTECTOR.



This simple but effective device simply clamps over the "heel" and "elbow" area of the fork which protects the bottom of the fork from excessive wear. It has a sacrificial steel alloy casting that wears in place of the fork. ANSI standards REQUIRE fork replacement when the heel thickness is reduced only 10% by wear.

Installation is very simple and can be done on any internal combustion or electric forklift. The combination of the side screws tightening and the casting's internal radius prevents slippage of the device. After it wears out one side of the sacrificial alloy, it is simply turned around to wear the other side.

Typically, one pair of FORK PROTECTORS will save replacement of up to 10 pairs of forks. Given this economic justification, they are very affordable for any high usage application.

FORK PROTECTORS are available in 4", 5" and 6" widths and come with (R model) rubber bumper top connector or (M model) low profile metal top connector. They are available in US and Canada through better forklift and equipment dealers.

For more information view website: www.keytroller.com or contact
KEYTROLLER, INC. 813-877-4500 or email: info@keytroller.com

More from Materials