Fork Lift Truck enables operator to sit or stand.
Press Release Summary: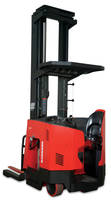 Raymond® Model 7600 Reach-Fork® features ergonomic seat that flips up and out of way for operator use in standing position. It includes 2 separate deadman pedals, 1 for seated use and 1 for standing operation. Steering column is also adjustable and open view mast has no center cylinder, optimizing visibility. Available in 4,500 lb capacity, truck lifts up to 37 ft, with 18.25 and 21.25 in. battery compartments offered. Raymond Deep-Reach® configurations offer 3,200 lb capacity.
---
Original Press Release:

Raymond Boasts Most Complete Line of Reach-Fork Trucks



GREENE, N.Y. - The Raymond Corporation now offers more versatility and higher productivity in a sit/stand reach truck. The new Raymond® Model 7600 Reach-Fork® truck allows the operator to sit or stand, depending on the material handling task being performed. The seated position enhances the range of operating positions, increasing operator comfort and lessening fatigue. The operator may choose the seated position for longer runs. This newest addition completes the Raymond 7000 Series of Reach-Fork trucks.

Raymond invented the Reach-Fork truck more than 50 years ago, revolutionizing the world of warehousing and distribution. The 7000 Series has become the industry's benchmark, allowing customers to choose the Raymond Reach-Fork truck that is right for them. Raymond offers the industry-leading universal stance, which offers excellent maneuverability for high stacking and tall loads and is a more productive solution for high-throughput applications. Also offered is the dockstance, which is best-suited for short travel and for operators who are accustomed to sidestance operation. Raymond offers a range of high-performance, customizable trucks to match every customer's exact specifications.

The new Raymond Model 7600 truck features an ergonomic seat that flips up and out of the way to allow the operator to use the lift truck in a standing position. For seated operators, a cushioned and suspended seat is provided. Two separate deadman pedals also are featured: one solely for seated use, and the other specifically for standing operation.

"This truck was designed to accommodate the ranges in operator size that we see in material handling today," says Susan Comfort, product manager, Class II products, for The Raymond Corporation. "An ergonomic operator compartment, and adjustable seat and steering column provide flexibility for different lift truck operators."

The open view mast has no center cylinder for unprecedented operator visibility; and faster, more efficient operations in rack interface work applications.

The Model 7600 Reach-Fork lift truck is available in 4,500-lb. capacity. Raymond Deep-Reach® configurations offer an industry-leading 3,200-lb. capacity with deep reach capability. The Model 7600 lifts up to 37 feet and offers 18.25-inch and 21.25-inch battery compartments to meet the runtime needs for specific applications.

The entire 7000 Series of lift trucks offers performance, reliability and low cost of operation with Raymond's exclusive ACR System(TM), which provides AC motors on both lift and drive. AC power provides smooth, precise load handling; quiet lift; and longer battery run time with less reduction in truck performance as the battery discharges.

For more information about the Raymond Model 7600 Reach-Fork lift truck or to locate a Raymond Service Center, visit www.raymondcorp.com or call (800) 235-7200.

The Raymond Corporation is a global provider of material handling solutions that improve space utilization and productivity, with lower cost of operation and greater operator acceptance. Raymond offers the iWarehouse(TM) system, an enterprise fleet management solution for warehouse and distribution center managers to collect and analyze real-time lift truck data to maximize fleet productivity and reduce costs. High-performance, reliable, ergonomically designed Raymond lift trucks range from a full line of manual and electric pallet trucks and walkie stackers to counterbalanced trucks, Reach-Fork trucks, orderpickers and dual-purpose (pallet handling/case picking) Swing-Reach® trucks.

For additional information about The Raymond Corporation or to locate a Raymond Service Center, visit the company Web site at www.raymondcorp.com or call (800) 235-7200. Above. And beyond.®, ACR System(TM), Deep-Reach®, iWarehouse(TM), Raymond®, Reach-Fork®, and Swing-Reach® are U.S. trademarks of The Raymond Corporation.

©2009 The Raymond Corporation. All rights reserved.

The Raymond Corporation

Attn: Elizabeth Buza

Project Manager, Marketing Communications

South Canal Street

P.O. Box 130

Greene, NY 13778-0130

Fax: 607-656-9005

marcom@raymondcorp.com

More from Test & Measurement