For Longer Chain Service Life: Relubricate – And Prevent Wear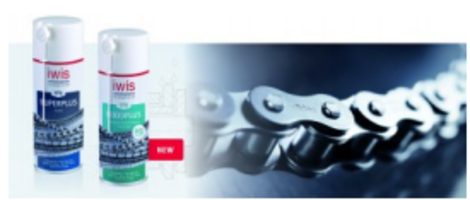 Valuable tips on the correct use of lubricants – from iwis, your specialist supplier of precision chain systems
For a chain to have a long service life without wear-related loss of performance, it needs to be serviced and lubricated regularly.
Maintenance and lubrication intervals should be strictly adhered to: about two thirds of all chain failures can be prevented by suitable relubrication, so selecting the right (re)lubricant is the most important factor in guaranteeing a long service for the chain, since the individual links of a chain act as bearings while the constantly oscillating chain is in operation. Inadequate lubrication and additional contamination can cause a reduction of chain performance to as little as 20% of its full potential, thereby reducing service life more than any other influencing factors.
iwis antriebssysteme produces precision roller and conveyor chains for industrial applications in the field of general machine engineering, plant engineering, the packaging, printing and food industries and conveyor technology. In recent years, the recognised chain specialist has conducted intensive research into solutions that prolong chain service life, as well as developing its own range of lubricants. On the solid basis of countless trials on specially designed test apparatus and close cooperation with reputable lubricant manufacturers, iwis is a reliable expert partner for all aspects of chain lubrication. A combination of a suitable lubricant and the appropriate lubrication process ensures a measurable reduction of wear and additional corrosion protection.
iwis antriebssysteme and its engineers are at your service with help and advice on chain maintenance and lubrication. Now important information on the correct use of lubricants is also available for download in the iwis flyer "Lubrication solutions" (https://www.iwis.com/as-flyer/lubrication/iwis-lubrication-solutions.pdf), which contains checklists with possible warning signs, tips on optimum lubricant dosage, preparing chains for lubrication, applying lubricants and selecting the ideal lubrication point, and recommendations for the right lubricant – depending on the respective application and chain type used. The choice of initial lubricant is equally important and is taken into consideration accordingly. The iwis flyer also gives maintenance staff, for example, valuable hints for their day-to-day work – in a compact, well-organised form.
By the way, iwis also offers solutions for applications that do not permit relubrication. The bushes of maintenance-free JWIS MEGAlife chains are made from sintered material, so the lubricant is retained in the chain joint long-term. Chains stay dry on the outside, but the joint is always well lubricated – and JWIS b.dry 1/2 stainless steel chains require no lubricant whatsoever. For more information on intelligent chain solutions from iwis, visit us at www.iwis.com.
The Munich-based chain manufacturer iwis offers a wide range of products for all drive and conveyor technology applications. The comprehensive product portfolio includes precision and high-performance roller chains, conveyor chains, maintenance-free and corrosion-proof chains, accumulation chains, conveyor chains for special applications, leaf chains, flat-top chains and modular belts for industrial applications, chains and accessories for agricultural machinery, and timing chain drive systems for the automotive industry.
iwis is a leading supplier of precision chain systems for drive and conveyor applications. The company is active in the following fields:
iwis motorsysteme makes chains and timing drives for the automotive industry.
iwis antriebssysteme produces precision roller and conveyor chains for industrial applications in general machine engineering, plant engineering, the packaging, printing and food industries and conveyor technology.
iwis smart connect makes housings and installation frames, as well as producing high-precision stamped/bent sheet metal parts, particularly for the fields of electrical connections, press-fit technology, IDC technology and MCS contact technology.
THIEN eDrives: Electromobility and electric motors
The family company was founded in 1916 and is now managed in the fourth generation by Johannes Winklhofer.
iwis has a global workforce of more than 2,100 and aims to achieve a turnover of 500 million euros in 2019. Besides its production plants in Germany (Munich, Landsberg, Wilnsdorf, Sontra, Kaufbeuren and Rieden) and in China, the USA and the Czech Republic, it has subsidiaries in various European and overseas countries, including Brazil, the UK, France, India, Italy, Canada, Korea, Switzerland, Singapore and South Africa. iwis is represented at a total of 45 locations worldwide.
iwis drive systems, LLC
Building 100, 8266 Zionsville Road
IN 46268 Indianapolis, USA
Kody Fedorcha
Phone: +1 317 821 3539
More from Mechanical Components and Assemblies