Footrest provides heat relief to cold feet and legs.
Press Release Summary: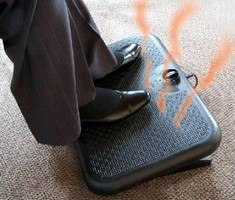 Measuring 12 x 18 x 5 in., thermostatically controlled Toasty Toes offers 3 positions, including mat, ergonomic footrest, and vertical heat panel. Unit plugs into any 110 V outlet, drawing 90 W and 0.8 A. It produces no space-heater-related hazards such as fires, burns, explosions, indoor air pollution, or carbon monoxide poisoning. Applications include desk, conference room, shipping table, security or ticket booth, repair shops, and production lines.
---
Original Press Release:

Heated Footrest



Toasty Toes Personal Heater: 3-position heater addresses safety and energy-cost concerns

Toasty Toes from www.indus-tool.com provides thermostatically-controlled heat to feet and legs. Some have called it a "heating pad for your feet". Three positions for convenience: mat, ergonomic footrest, and vertical heat panel. Compact, portable Toasty Toes measures 12" x 18" x (maximum) 5", weighs 5 pounds, draws 90 watts and 0.8 amps and is ETL-listed. Its handy dial provides easy control, and the 6' cord plugs into any 110v outlet.

Addresses Safety Concerns:
o no space-heater-related hazards like fires, burns, explosions, indoor air pollution or carbon monoxide poisoning
o Toasty Toes can be used anywhere, whereas space heaters have restrictions on building type and height, plus restrictions on use on carpet

Addresses Energy-Cost and Efficiency Concerns (compared to a space heater):
o low wattage means low electricity use
o no tripped circuit breakers

At work, warm legs and feet promote productivity, eliminating the distractions and complaints of cold temperatures: use at a desk, conference room, lunch room or bathroom, shipping table, security or ticket booth, repair shop, airplane hangar, drive-thru window, barn, production line, refrigerated work areas.

At home, warm extremities are beneficial to older adults, athletes, arthritis-sufferers and more, as heat lessens pain and stiffness, relaxes muscles, and improves circulation and metabolism: use in a study, workbench, basement, garage, porch, sewing/craft room - wherever seated or standing for a long period of time.

Toasty Toes is perfect in cold or drafty areas, but also in warm climates with air-conditioning. Distributors are welcome.

For more information, please contact:
Indus-Tool (contact Trunita Robinson / Mona Zemsky)
300 North Elizabeth Street
Chicago, IL 60607 USA
Phone: 312-226-2473 Toll Free: 800-662-5021
Fax: 312-226-2480
e-mail: news@indus-tool.com web page: indus-tool.com

SAFER THAN A SPACE HEATER:
not too hot to touch
no carbon monoxide risk

COMFORTABLE:
provides heat relief to cold feet and legs
improves comfort and work performance

MORE EFFICIENT THAN A SPACE HEATER:
uses less energy than a light bulb
warm feet allow for lower room temperatures

o Three convenient positions
o Easy to set-up and use anywhere!
o Elegant black-on-black embossed design matches any decor

12" x 18" x (maximum) 5"
5 lbs., 90 watts, 0.8 amps
ETL listed.
Your Price: $85.00

More from Printing & Duplicating Equipment