Food Examination Kit measures radiation levels.
Press Release Summary: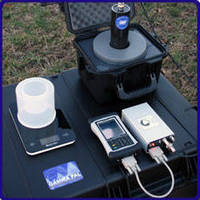 Supplied in Pelican-Style hard wheeled case, Model 971 Food-SSAFE Kit utilizes NaI detector and software algorithm to measure and report nuclear radiation found in fish and meat products, liquids, and soil samples. Food products are placed in Marinelli beaker then insulated with lead shield. Data is collected in Model 970 Multi-Channel Analyzer and then processed with NOMAD micro-PC. In addition to displaying results in real-time, kit can store results for future analysis.
---
Original Press Release:

Model 971 Food-SSAFE Kit



The Model 971 Food-SSAFE Kit (Spectrum/Sample Analysis and Food Examination Kit) from Berkeley Nucleonics offers non-technical equipment users an easy method for measuring
radiation levels found in fish and meat products, liquids and soil samples. The nuclear radiation found in food is measured and reported by a software algorithm coupled with a sensitive NaI (sodium iodide) detector. Food products (beef and poultry, fish, vegetables, water samples or grains) are placed in a Marinelli beaker then insulated with a lead shield. Once the sample is prepared, the shield in place and the NaI detector is correctly orientated, analysis begins automatically.

The data is collected in a small Multi-Channel Analyzer (Model 970) and then processed with a NOMAD micro-PC. The results are displayed on the screen in real time, but can also be stored for future analysis. Users can also recall the reports and send to a label printer for documentation of multiple samples.

The portable system includes all the accessories required for complete analysis in the field. For example, a digital scale, a sieve and a barcode scanner are also included to manage larger applications with many samples. Results from the system are presented in Becquerel / Liter or Becquerel / Kilogram. The entire system packs neatly into a large Pelican-Style hard case with reinforced hinges and wheels. The wheeled case includes a smaller case to house the heavy lead shield; however, a compartment for disposables like plastic bags, plastic containers and sealing tape are also included. The model 970 Food-SSAFE can be commercially shipped and weighs 110Lbs (50 Kgs)

"Food-SSAFE provides a cost effective alternative to High Purity Germanium systems which can be cumbersome to cool in both laboratory or field settings", comments David Brown, Company President. "Most nuclear measurements of soil and agricultural products are focused on Nuclear Power Plant reactor isotopes. Isotopes like Cesium 137 and Iodine 121 are reasonably easy to measure at very low levels with lower cost sodium iodide detectors."

Berkeley Nucleonics offers Food-SSAFE as a kit or as part of a larger radiation detection and response program. The company bundles a family of additional personal detectors and identifiers with the kit. A comprehensive training program accredited by several industry agencies is also offered. For more, see http://www.berkeleynucleonics.com/products/model-971.html

Press Contact:

Bernadette Jamieson

800-234-7858 x210

bernadette.jamieson@berkeleynucleonics.com

Technical Contact:

Robert Corsetti

800-234-7858 x250

robert.corsetti@berkeleynucleonics.com

About The Company :

Berkeley Nucleonics Corporation is a leading manufacturer of precision electronic instrumentation for test, measurement and nuclear research. BNC has its corporate headquarters in San Rafael, California with several additional manufacturing facilities
and sales offices located throughout the United States. Founded in 1963, BNC has been a recognized leader in the field of isotope identification and conducts hundreds of short courses on radiation detection and isotope identification for Federal and
State agencies.

More from Agricultural & Farming Products