Focused Ion Beam Column features high resolution.
Press Release Summary: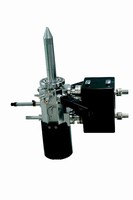 With 2.5 nm resolution, COBRA-FIB (focused ion beam) column has ability to perform sub 2 nm images with gallium at 1 pA. Suited for imaging and milling, it facilitates cross-sections and TEM sample preparations in FA processes, as well as circuit editing. Nano-engineering FIB instrument is available for R&D laboratories as well as FIB equipment manufacturers, and is adaptable on many vacuum chambers. UHV version is also available with identical beam performances.
---
Original Press Release:

ORSAY-PHYSICS Launches the Highest Resolution FIB in the World



March 3, 2008

ORSAY-PHYSICS launches his new generation COBRA-FIB (focused ion beam) column.

In addition to its unsurpassed resolution guaranteed at 2.5nm, sub-2nm images have been performed with gallium at 1pA. (20/80% SE image on platinum sample)

High current modes have also been optimized providing an extremely well defined beam shape with unique milling performances.

This ORSAY-PHYSICS achievement is the result of 20 years of expertise and R&D in charged particle optics.

COBRA-FIB represents the top level technology in terms of resolution both for imaging and milling.

COBRA-FIB guarantees the shortest time-to-result for cross-sections and TEM sample preparations in FA processes, as well as circuit editing.

Besides this process time optimization, COBRA-FIB represents the sharpest nano-engineering FIB instrument.

COBRA-FIB is available for R&D laboratories as well as FIB equipment manufacturers, and is easily adaptable on many vacuum chambers.

A UHV version has been developed with identical beam performances.

ORSAY-PHYSICS is a french company leader in focused ion and electron beam technology: www.orsayphysics.com

Company Name: Orsay-Physics
Address 1: 95 Avenue des Monts Aureliens
Address 2: Za Saint Charles
City: Fuveau
Zip: 13710
Country: France
Phone: 33442538090
URL: www.orsayphysics.com

Contact Name: Vincent Morin
Title: Marketing Manager
E-mail: vincent.morin@orsayphysics.com

More from Optics & Photonics