Foam Plank eliminates marring of sensitive surfaces.
Press Release Summary: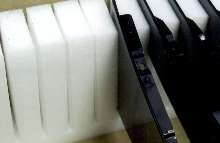 PolyPlank® SFT offers softness properties derived from combination of polyethylene plank and additives. Extruded foam is suited for Class A sensitive surfaces. It can be die-cut, skives with little resistance, and does not grab slicing blade. Cell structure results in neat routing and helps maintain shape following fabrication. It is available in sizes of 108 x 24 x 2 in. and 108 x 24 x 3 in., with density of 2 lb/cu ft.
---
Original Press Release:

PolyPlank® SFT Offers 'Soft' Foam Plank Alternative


Lake Forest, Ill. (October 13, 2003)-Pactiv Corporation (NYSE: PTV) announces the launch of its new PolyPlank® SFT "soft" foam plank product. PolyPlank® SFT offers a cost-effective protection solution for surfaces sensitive to marring.

The foam's unique softness properties are derived from a marriage of polyethylene (PE) plank and additives. PolyPlank® SFT is non cross-linked foam made via extrusion. More expensive cross-linked foams rely on a batch process.

The end result of PolyPlank® SFT's extrusion process is a fine cell structure which comes close to equaling the properties found in the more expensive cross-linked version.

Packagers and fabricators can now experience the protection benefits of a "soft" foam product, while still achieving cost savings of approximately 10-20% over cross-linked foams.

PolyPlank® SFT is said to be ideal for "Class A" surfaces which are sensitive to marring. Examples include automotive products, household furnishings, fixtures, electronic devices, instrumentation, protective floor and wall padding, etc.

Fabricators who have already tested the product report that PolyPlank® SFT can be die-cut using the same process as additive-free PE plank. PolyPlank® SFT skives with little resistance and does not grab the slicing blade as do some cross-linked PE foams. The product routes neatly due to its fine cell structure providing just the right fit for "case insert" designs. Bonding can also be achieved with less heat and labor than cross-linked PE.

Further, the fine cell structure helps maintain shape following fabrication. This results in reusable parts such as case inserts, assembly parts holders or returnable packaging components.

PolyPlank® SFT is available in two-inch thickness and easy-to-handle 24-inch wide planks with a standard 108-inch length at a two-pound per cubic foot density. Three-inch thick plank also is available in a 108-inch length.

Further benefits typical to inert, clean polyethylene foam are chemical and water resistance and ability to cushion in repeated impact conditions. PolyPlank® SFT can also be placed in the typical polyethylene waste stream for recycling-a benefit cross-linked foams do not provide.

Pactiv Corporation (NYSE: PTV) is a leading producer of specialty packaging products with sales of $2.9 billion and operations in 14 countries. Pactiv is a market leader in growth sectors of the packaging industry: Consumer Products, with the Hefty® brand; Foodservice/Food Packaging; and Protective and Flexible Packaging. For more information about Pactiv, visit the company's web site at www.pactiv.com.

Please forward sales inquiries to:

Protective Marketing Dept.
Pactiv Corporation
1900 West Field Court
Lake Forest, IL 60045
Phone: (847) 482-8812
Phone: (877) 692-6163 (toll free)
Fax: (847) 482-4529

More from Chemicals & Gases