Rubber / Foam Cutters and Cutting Machinery
Foam Cutters handle large, complicated parts.
Press Release Summary: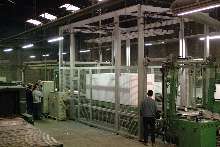 Computer-assisted Industrial Series AIXIA foam cutters have framework that provides cutting capacity of 17 x 16 ft with cutting wires of up to 20 ft. Microprocessor-controlled motors (12) and wide-toothed belts provide enough power to move heavy loads with precision, while up to 40 wires in horizontal/vertical position can be used for delineation and slicing. CROMA software provides cutting simulation and management of wire temperature and cutting speed.
---
Original Press Release:

Croma's New Industrial Series of Versatile Computer Assisted Foam Cutting Machines Are Ideal for Large and Complicated Parts


Chicago, April 16, 2003

A world leader in the production of computer-controlled hot wire foam* cutting systems, the CROMA company is offering its Industrial Series of AIXIA foam cutters. This new series consists of extremely versatile machinery for high productivity industrial use that can be customized to suit all design and production requirements.

The Industrial Series cutting machines include additional features over the Standard, Professional and Contractor Series in the AIXIA product line. The new machines are manufactured from a double chassis made of reinforced aluminium extruded profile, capable of withstanding heavy loads. All the moving parts are inside the machines for optimal protection and dust free work.

The strong framework provides a large cutting capacity of 17 x 16 ft. with cutting wires of up to twenty feet. The twelve motors as well as the wide-toothed belts provide sufficient power to move heavy loads with precision, such as six vertical arms (Y movement) with inclinable multi-wire harps (up to forty wires).

Management of the wires in uncoupled mode makes it possible to obtain shapes that are totally or proportionally different on each side of the object. Up to forty wires in the horizontal and/or vertical position can be used for delineation and slicing. The Industrial Series offers independent cutting wire movement, which means that each end of the wire can cut different shapes to produce very unique foam products. Multiple wires on tilting harp ensure mass production for many types of products.

The design of these machines is such that all the necessary elements can be installed to satisfy the most demanding safety standards (complying with the EU safety rules). These include complete enclosure of the machine, safety doors with opening detectors, a smoke extractor, and a system of internal and/or external conveyors on the chassis for supplying and removing material.

Many options are available and can be combined in one machine. All the machines of this series can therefore meet customers' specifications whatever their particular needs. The extreme versatility of the AIXIA Industrial Series machines helps high productivity to be obtained particularly in the manufacture of elaborated 3D products with a high added value, such as cones, aircraft wings with trailing edge, and spiral columns.

Options include a Horizontal Lathe that allows production of all types of columns or oversized objects. An Automated Turntable, which is computer driven, is also available and permits easy production of 2D and 3D objects without the operator intervening. This system based on the principle of cutting apparent contours is capable of dealing with different profiles on each rotation. Up to three turntables can be integrated into the Industrial Series machines. Another option consists of a Shapeable Wire Tool using a special wire that can be shaped to work the foam. One or two of these wires can be positioned anywhere within the space and then controlled by computer. This tool makes it possible for different shapes to be obtained on each side of the object.

The AIXIA cutting systems' reliability is the result of using the CROMA software program under Windows. Its main functions are simulation of cutting, management of wire temperature, and cutting speed. Motors are controlled by microprocessor. The program can update the internal electronics.

(*Expanded Polystyrene, Extruded Polystyrene, Plexiglas Foam, Expanded Polypropylene, Polyethylene and other special materials)

For more information, please contact:

Mr. Philippe MALAPERT
CROMA USA INC.
6735 S.W. 59th Street
Miami, FL 33143
Tel.: (305) 662-6428
Fax: (305) 662-6429
E-mail: philippe.malapert@croma-foamcutter.com
Web: www.croma-foamcutter.com

or

FRENCH TECHNOLOGY PRESS OFFICE
One East Wacker Drive, Suite 3740
Chicago, IL 60601
Tel: (312) 222-1235
Fax: (312) 222-1237
E-mail: contact.ftpo@ubifrance.com

More from Software