Flush Door Hardware accommodates proximity card readers.
Press Release Summary: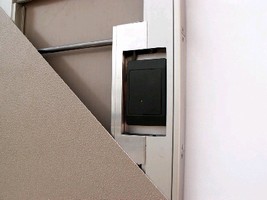 Suited for locations where controlled access is desired, FRP Fiberglass Reinforced Polyester and AMP Acrylic Modified Polyester Flush Door Hardware allows low-profile reader to be installed inside door, in lock stile above door pull where it is completely concealed. Door skins do not impeded signal transmission, allowing reader to detect proximity cards through door face. Internal placement of card reader protects it from weather and tampering.
---
Original Press Release:

New Special-Lite FRP and AMP Flush Door Hardware Prep Option Accommodates Internal Proximity Card Readers for Improved Security



Subject: New Special-Lite FRP and AMP Flush Door hardware prep option accommodates internal proximity card readers for improved security

Special-Lite FRP (Fiberglass Reinforced Polyester) and AMP (Acrylic Modified
Polyester) Flush Doors can now be outfitted with internal proximity card readers for locations where controlled access is desired. This new factory hardware prep option allows a low-profile reader to be installed inside the door, in the lock stile above the door pull, where it is completely concealed.

Improved Security
Internal placement of a card reader protects it from weather and tampering.
Only persons who have been issued an access card will know that a card reader is inside the door, adding another layer of security.

How it Works
Special-Lite FRP and AMP Flush Door skins do not impede signal transmission, allowing the reader to detect proximity cards right through the door face.
Since aluminum between the reader and card can interfere with the signal, all aluminum surfaces over the reader are removed.

To accommodate the electrical connections for the card reader, a wire conduit is routed through the door's core from the hinge stile to the reinforced pocket where the reader is mounted. The reader pocket excludes the urethane foam that is injected into the rest of the door core.

Installation and Service
The card reader pocket can be accessed through the edge of the door for installation or service. A chase wire is included in the conduit for easier initial wiring. A wired hinge will be required to connect the reader with facility wiring.

Model Availability
Special-Lite doors models available with the internal proximity card reader pocket include:

o FRP Flush Door SL-17, with exclusive SpecLite3(R) FRP
o FRP Flush Door SL-20, with paintable FRP
o AMP Flush Door SL-18 Colonial
o AMP Flush Door SL-19 Wood

For more information, call Special-Lite at 1-800-821-6531.

About Special-Lite, Inc.
Based in Decatur, Michigan, Special-Lite manufactures complete entrance systems consisting of flush, monumental, colonial doors, panels and framing for new construction and replacement installations in educational, commercial, institutional, industrial and municipal applications. The company was founded in 1971 and pioneered the use of fiberglass reinforced polyester (FRP) material for door skins in the early 1980's, and today is the largest volume producer of FRP doors in the U.S. Special-Lite's entrance products are the first and only to earn GREENGUARD Indoor Air Quality Certification(R), including the stringent new Children & Schools Standard(TM).

The GREENGUARD INDOOR AIR QUALITY CERTIFIED Mark is a registered certification mark used under license through the GREENGUARD Environmental Institute.

Contacts:
Dan Depta
Ph: 800-821-6531
Fx: 800-423-7610
Daniel_Depta@special-lite.com


More from Electronic Components & Devices