Fluorocarbon Lined Hose targets heavy-duty truck market.
Press Release Summary: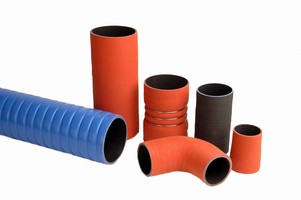 Designed for combustion residue resistance, Purosil fluorocarbon lined hoses and elbows can withstand extreme temperatures. Using DuPont Viton elastomer, which can resist diesel fuel combustion byproducts as well as alcohols and fuel additives, FC lined hoses offer chemical bond between fluorocarbon liner and silicone rubber composite structure. Fluorocarbon hoses have continuous operating temperature of 235°C and low temperature capabilities down to -43°C.
---
Original Press Release:

Purosil Products Making Impression in Cost Savings



March 24, 2008

Purosil, an affiliate of Mission Rubber Company, has introduced several fluorocarbon lined hose-products to the heavy-duty truck market in response to new EPA regulations. Designed for combustion residue resistance and withstanding extreme temperatures, the new Purosil fluorocarbon lined hoses and elbows are reducing truck operating lifetime costs by preventing failures and increasing the time between maintenance intervals.

The development of Purosil's fluorocarbon (FC) program began in 2005, and now is integrated into its product line-up including Hump Hoses, Charge-Air Hoses, Turbocharger Hoses and Elbows. "Our goal was to develop and institute a highly efficient barrier product for containing crankcase emissions," comments Greg Koziel, Purosil National Account Manager. "With superior barrier properties than fluorosilicone and ten times better barrier properties than chloroprene (when used in hydrocarbon containing environments), Purosil FC lined products offer manufacturers and end-users greater flexibility and reliability", Koziel adds.

Using premium DuPont Viton elastomer, which is designed to resist diesel fuel combustion byproducts as well as alcohols and fuel additives, Purosil's FC lined hoses offer an excellent chemical bond between the fluorocarbon liner and the silicone rubber composite structure. Fluorocarbon hoses have a continuous operating temperature of 235°C or 455°F and low temperature capabilities down to -43°C or -45°F. With the combination of aramid fabric, silicone rubber and fluorocarbon liner, Purosil products provide exemplary performance and enhanced features.

Established in 1958, Purosil manufactures a full array of Coolant, Heater, Turbocharger and Charge-Air Cooler (CAC) Hoses for all ranges of diesel engines. A pioneer in silicone hose manufacturing, Purosil is a leader in the implementation of high-strength and heat-resistant materials in its products.

Purosil products are available through local distributors and heavy duty part outlets throughout North America. In addition to the heavy-duty transportation industry, Purosil services the Marine, Automotive, Construction, and Coach markets through the production of high quality EPDM air intake and silicone hose products. For more product information, please visit the Purosil website at www.purosil.com or contact Purosil Customer Service 800-877-5342. For inquires by mail please address to P.O. Box 2467 Corona, CA 92878.

Company Name: Purosil
Address 1: P.O. Box 2467
City: Corona
State: CA
Zip: 92878
Phone: 951-271-3900

URL: www.purosil.com

Contact Name: Katharine Czechowski
Title: Marketing
E-mail: kczechowski@purosil.com

More from Materials