Fluorescence Imaging System facilitates live cell imaging.
Press Release Summary: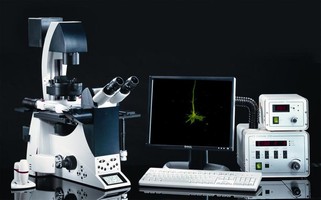 Compatible with upright and inverted microscopes, Leica AF6000 multi-dimensional acquisition system features ability to overlay multi-channel images and acquire 3D and time lapse data for image documentation, quantification, enhancement, and analysis. Suited for applications from calcium ratio and FRET analysis to colocalization and motion analyses, AF6000 provides integrated interface to deconvolution algorithms and separate 3D visualization module.
---
Original Press Release:

Leica Microsystems Introduces New Dynamics in Live Cell Imaging: Leica AF6000



Bannockburn, Illinois. Leica Microsystems is pleased to present Leica AF6000, the successor to Leica FW4000. By combining the acquisition features of FW4000 with LAS (Leica Application Suite) software, Leica AF6000 provides the most powerful, easy-to-use, multi-dimensional acquisition system on the market.

Leica AF6000 is a fully integrated system for advanced fluorescence imaging and provides solutions that evolve with changing research requirements. From overlaying multi-channel images to acquiring three dimensional and time lapse data, a wealth of features are included as standard for image documentation, quantification, enhancement, and analysis. Designed to completely harmonize the microscope, camera, and application, Leica AF6000 is compatible with upright and inverted microscopes.

Application modules for advanced acquisition and analysis extend Leica AF6000's capabilities to provide solutions for a multitude of applications from calcium ratio and FRET analysis to colocalization and motion analyses. Additionally, AF6000 provides a completely integrated interface to Autoquant's deconvolution algorithms as well as a separate 3D visualization module.

Company Information:
Leica Microsystems is a leading global designer and producer of innovative, high-tech, precision optical systems for the analysis of microstructures. It is one of the market leaders in each of its business areas: Microscopy, Confocal Laser Scanning Microscopy, Imaging Systems, Specimen Preparation, and Medical Equipment. The company manufactures a broad range of products for numerous applications requiring microscopic imaging, measurement, and analysis. It offers system solutions for life science including biotechnology and medicine; research and development of raw materials, and industrial quality assurance. The company is represented in over 100 countries with 8 manufacturing facilities in 6 countries, sales and service organizations in 19 countries and an international network of dealers. With its workforce of 3,200 employees it made turnover of $597M USD in 2005. The international management is headquartered in Wetzlar, Germany.

For more information contact:
Molly Lundberg
Leica Microsystems Inc.
2345 Waukegan Road
Bannockburn, IL 60015
Phone 847/405-0123
800/248-0123
Fax: 847/405-0164
email: news@leica-microsystems.com
Website: www.leica-microsystems.us

More from Services