Fluid Exchange Systems keep vehicle fluids uncontaminated.
Press Release Summary: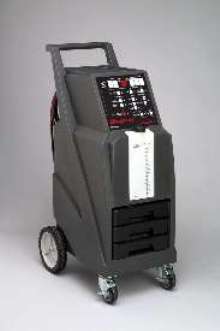 FuelKare(TM) and Diesel FuelKare(TM) offer fuel system service, cleaning, and diagnostics for gasoline or diesel engines. Both use cleaning solution, which temporarily replaces vehicle's fuel supply and automatically performs cleaning and diagnostic functions. OilKare(TM) uses non-acidic cleaning agent and filter to remove accumulated deposits and contaminants left behind during oil change. TransKare(TM) allows automatic transmsission fluid exchanges through vehicle's transmission dipstick.
---
Original Press Release:
Snap-on Tools Company Introduces a New Family of Fluid Service Equipment for Gasoline, Diesel, Oil and Transmission Systems
KENOSHA, Wis., December 3, 2004-With the introduction of Snap-on® FuelKare(TM), Diesel FuelKare(TM), OilKare(TM) and TransKare(TM) systems, Snap-on Tools Company and its complete line of fluid exchange products offer a variety of service options and preventative maintenance solutions. Snap-on fluid maintenance products are designed to thoroughly flush away harmful deposits and keep fuel, oil, transmission and brake systems uncontaminated for maximum vehicle performance. Regular maintenance of fluid systems reduces the chance for serious driving difficulties and long-term vehicle damage. The comprehensive, easy-to-use systems are designed to increase shop profitability and efficiency, while providing the most comprehensive fluid exchange and system flush service available. When using any of the fluid maintenance products, customers will enjoy a safer, cleaner, longer lasting, more powerful and fuel-efficient vehicle. Snap-on FuelKare, TransKare and OilKare units provide a fully automatic, guided system that produces quick, accurate and reliable results. FuelKare and Diesel FuelKare Systems The Snap-on FuelKare (EEFS305A) and Diesel FuelKare (EEDD300A) systems offer complete fuel system service, cleaning and diagnostic capabilities for either gasoline or diesel engines. Both units use a specially formulated Snap-on fuel system cleaning solution, which temporarily replaces the vehicle's fuel supply and automatically performs cleaning and diagnostic functions. The mixture of cleaning solution and fuel circulates through the entire fuel system, loosening and dissolving accumulated deposits and contaminants that can damage the vehicle's engine if left untreated. The debris is then either filtered through the Snap-on FuelKare system or combusted and released with the vehicle's exhaust. The extensive cleaning process helps maintain fuel system and vehicle performance, including optimum fuel delivery and reduced exhaust emissions, without damaging the vehicle's components. Proper maintenance with the Snap- on FuelKare system can improve horsepower and fuel economy while extending an engine's overall life. The Snap-on FuelKare system is capable of tracking and diagnosing fuel pump flow rates, static pressures and check valve leakage, as well as fuel system regulated pressure and vacuum. The integrated control panel and trouble-free process help isolate, identify and correct fuel system deficiencies before they become apparent. OilKare The Snap-on OilKare (EESE302A) system delivers a comprehensive engine flush and provides the most complete oil system service possible. The specially-formulated, non-acidic cleaning agent and filter remove accumulated deposits and contaminants otherwise left behind during a traditional oil change. The removed deposits, which decrease engine performance and shorten engine life, are filtered through the unit in stages or combusted and released with the vehicle's exhaust. The Snap- on OilKare's smallest filter, measured at only one-micron, has a significantly finer threshold than typical oil filters (25 - 50 microns) and removes contaminants and deposits traditionally not filtered. The user-friendly and LED-guided menu allows the operator to perform engine flush services quickly and efficiently. The 10-minute flush and recovery process completes four cycles, removing all remaining oil and cleaning solution, leaving behind a clean oil system ready for fresh oil. TransKare The Snap-on TransKare (EETF305A) System is a technologically advanced fluid exchanger that allows convenient, quick and accurate automatic transmission fluid exchanges through the vehicle's automatic transmission dipstick. The intuitive control panel guides the user through the entire process, from removal to fill. In a "static" engine off mode, the unit first removes old fluid in the transmission pan through the dipstick, eliminating the messy and timely removal of drain pans. Following fluid removal, the unit then fills the transmission with an equal amount of new fluid through the dipstick. Visible flow meters allow the user to continually monitor fluid movement to and from the transmission. The Snap-on TransKare then prompts the technician to start the engine, during which the unit replaces circulating transmission fluid on a quart-by-quart basis. The Snap-on TransKare's unique clean and simple dipstick fill and extraction method completes most automatic transmission fluid exchanges within 10 minutes. The automated process adds efficiency and profitability to shops performing transmission fluid services. Technicians and customers can find out more about the Snap-on® FuelKare (EEFS305A), Diesel FuelKare (EEDD300A), OilKare (EESE302A), and TransKare (EETF305A) systems by visiting www.snapon.com, contacting their local Snap-on representative or calling toll free 877-SNAPON-2 (877-762-7662). Snap-on Tools Company is a subsidiary of Snap-on Incorporated, a leading global developer, manufacturer and marketer of tool and equipment solutions for professional tool users. Product lines include hand and power tools, diagnostics and shop equipment, tool storage products, diagnostics software and other solutions for the transportation service, industrial, government, education, agricultural, and other commercial applications, including construction and electrical. Products are sold through its franchisee dealer van, distributor channels and company direct sales, including snapon.com. Founded in 1920, Snap-on Tools is a $2+ billion, S&P 500 company headquartered in Kenosha, Wis., and employs approximately 12,700 worldwide.
More from Fasteners & Hardware