Fluid Dispenser uses 5 axes of automated control.
Press Release Summary: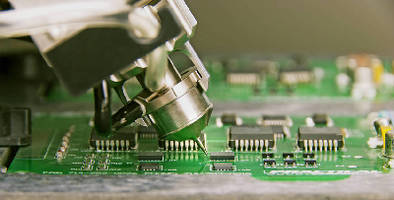 With additional X and Y tilt modes, Programmable Tilt + Rotate 5-Axis Fluid Dispenser can dispense from vertical position and at varying tilt angles along all 4 sides of device and up side of substrate or component, especially for 3D packages, while meeting stringent requirements for precision, accuracy, and speed. Fluidmove® software provides automatic actuation of tilt and rotation functions during production. Using tilt mode, jet dispenses up to ±30° with 1° resolution in X or Y axis.
---
Original Press Release:

Nordson ASYMTEK's Programmable Tilt + Rotate Uses 5 Axes for Fluid Dispensing



Dispenses up sides of a component and on all 4 sides while maintaining precision, speed, and accuracy



See Nordson ASYMTEK at SEMICON West booth #5743



Carlsbad, CA, USA — Nordson ASYMTEK, a Nordson company (NASDAQ: NDSN), a global leader in dispensing, jetting, and coating equipment and technologies, announces its new Programmable Tilt + Rotate 5-Axis Fluid Dispenser that enables the jet to dispense using 5 axes of automated control instead of only 3 axes. The additional X and Y tilt modes enable dispensing from a vertical position and at varying tilt angles along all four sides of a device and up the side of a substrate or component, especially for 3D packages, while meeting stringent requirements for precision, accuracy, and speed. It enables dispensing of underfill, encapsulant, and coating fluids around tall substrate components on PCBs, flexible circuits, and in densely populated boards; provides precision fluid delivery to multiple sides of the latest-generation mobile device cases and sub-component camera modules by moving the nozzle tip closer to a target location such as a vertical wall; and dispenses into tight corners and narrow gaps in advanced packages.



For 3D IC applications, applying fluid for capillary underfill of stacked die using conventional vertical dispensing necessitates building up fluid to reach the top of the stack. If there are variations in the height of the stack, the defined fluid volume might end up short of the top layer or overflow the top. The Programmable Tilt + Rotate feature enables the user to determine the height of the die stack's top layer and then dispense fluid along all four sides of the stack just below the top surface, ensuring that sufficient fluid reaches the top of the stack without overflowing over the top. Dispensing from the top down can further reduce the amount of excess fluid required with conventional vertical dispensing, thereby reducing the total wet-out distance around the die stack.



Nordson ASYMTEK's Spectrum™ II fluid dispensing system with the integrated Tilt + Rotate option is seamlessly controlled with the feature-rich Fluidmove® software to provide automatic actuation of the tilt and rotation functions during production. Using the tilt mode, the jet dispenses up to an industry-leading ±30° with 1° resolution in either X or Y axis.



"Dispensing fluid has traditionally been done with a vertical motion, either with a needle or a jet; however, dispensing vertically no longer is able to meet the manufacturing requirements of semiconductor packages in mobile phone designs, smart watches, and similar products. For 3D IC packages, vertical dispensing is challenged by the need for consistency in applying underfill at the upper layers of the die stack," explained Garrett Wong, product manager, Nordson ASYMTEK. "Nordson ASYMTEK's new Programmable Tilt + Rotate 5-Axis Fluid Dispenser, in conjunction with Nordson ASYMTEK's dispense jets and Spectrum II fluid dispensing system, solve these problems, achieving unparalleled accuracy and precision in X, Y, and Z axes for thin lines and small dots. When jetting is combined with a rotated or tilted head, fluids can be precisely dispensed into previously impossible to reach locations at the speeds needed for high-volume manufacturing of cutting-edge products."



The Programmable Tilt + Rotate 5-Axis Dispenser will be on display at SEMICON West 2015, held in the Moscone Convention Center, San Francisco, California, from July 14-16, in booth #5743. Nordson ASYMTEK technical experts will be available to discuss your applications. For more information or to schedule an appointment, contact Nordson ASYMTEK at info@nordsonasymtek.com, call +1 760-431-1919, check out the data sheet at http://www.nordson.com/en-us/divisions/asymtek/Literature/Accessories%20and%20Misc/DS-Tilt-Dispensing-Options-NordsonASYMTEK.pdf  or visit our website at www.nordsonasymtek.com/tilt.



About Nordson ASYMTEK

Nordson ASYMTEK, a world leader in precision automated fluid dispensing, conformal coating, and jetting technologies, designs and manufactures dispensing and coating systems, supported by an award-winning global applications and service network for over 30 years. To find out more, visit www.NordsonASYMTEK.com,   www.Facebook.com/NordsonASYMTEK, or www.Twitter.com/NordsonASYMTEK.



About Nordson Corporation

Nordson Corporation delivers precision technology solutions that help customers succeed worldwide. Precision dispensing of adhesives, coatings, sealants, biomaterials, and other fluids, plastic extrusion and injection molding, electronics testing and inspecting, and surface preparation are supported by applications expertise and direct global support. Nordson serves consumer non-durable, durable and high-technology markets, specializing in packaging, nonwovens, electronics, medical, energy, transportation, construction, and product assembly. Founded in 1954, headquartered in Westlake, Ohio, USA, Nordson has operations and support offices in 30+ countries. Connect with Nordson at www.nordson.com and on social media.



For more information contact:

Nordson ASYMTEK Headquarters:

Roberta Foster-Smith

Tel: +1.760.431.1919

Email: roberta.foster-smith@nordsonasymtek.com

More from Services