Fluid Conditioning System prevents contaminant build-up.
Press Release Summary: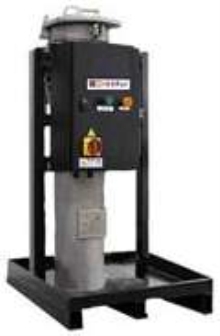 Utilizing Balanced Charge Agglomeration technology, Agglomerator(TM) improves filtration performance on lubricating, hydraulic, and other non-conductive fluids used in industrial machinery. It also cleans machinery internals over time and improves demulsibility of fluids. Capable of flow-rates of up to 1,200 gph, product can integrate into existing systems to remove sub-micron particles, products of oxidation, ferrous and nonferrous metals, and bacteria.
---
Original Press Release:

Proven Technology Improves Fluid Filtration While Removing Sludge & Varnish Build-up


Ideal for industrial machinery using hydraulic fluids, lubricating or machining oils.

Rocky Hill, CT - The ISOPur Fluid Technologies, Inc. has recently completed development of the Agglomerator(TM) fluid conditioning system that utilizes ISOPur's patented Balanced Charge Agglomeration (BCA) technology. The Agglomerator(TM) significantly improves filtration performance on lubricating, hydraulic and other non-conductive fluids used in most industrial machinery. The Agglomerator(TM) also cleans machinery internals over time, preventing and removing sludge and varnish deposits. The system is capable of flow-rates of up to 1200 gallons per hour, and is designed for easy integration into existing systems.

In addition to hydraulic and lubricating oils, BCA technology has also been proven effective on cutting/machining oils, phosphate esters, and vegetable oils, removing contaminants of many varieties, including sub-micron particles, products of oxidation, ferrous and nonferrous metals, and bacteria.

The Agglomerator(TM) will improve system lubricity and cleanliness, and will prevent problems with servo valves, control valves, bearings, metering orifices, regulators, seals and machinery internals. Using BCA can also improve the "demulsibility" of fluids allowing for effective water separation and removal.

ISOPur systems provide a significant return on investment by reducing downtime and maintenance requirements, extending the life of capital equipment, and reducing fluid consumption and waste disposal. The need for chemical flushes are also minimized or eliminated through the use of ISOPur's BCA technology.

"Servo valves and bearings are vital to machine performance and are often the sources of failure in critical machinery, resulting in costly equipment downtime, higher repair and maintenance costs, and lost production", explained Gerald L. (Gerry) Munson, BCA inventor and Chief Technology Officer at ISOPur.

"When sub-micron particles within the lubricating fluid get trapped in the extremely small clearances between the valves, the particles act like an adhesive, causing the servo valves to stick and often fail. Often times, this brings production to a costly halt. The backbone of the BCA technology is the ability to remove sludge and varnish," says the inventor.

"What's exciting is the Agglomerator's ability to transform lubricating oil into a capital asset that can be used again and again without replacement," said Munson.

How the system works:

BCA works by circulating non-conducting fluid past electrodes which place positive (+) and negative (-) charges, in equal amounts, onto suspended contaminant particles. These particles become naturally attracted to each other and grow much larger through turbulent interaction. The resulting "agglomerated" particles are now easily removed through traditional filtration methods. This technology is unique because of it's effectiveness in removing sub-micron particles that would otherwise pass freely through premium filters. It is these particles that cause the majority of equipment problems and failures. ISOPur accomplishes this level of ultra-fine purification without compromising fluid lubricity.

By charging particles in equal positive (+) and negative amounts, the agglomerated particles end up with a net zero (balanced) charge, as does the fluid environment. This balanced net charge prevents additional varnish & sludge formation which is caused by static net charges. This is extremely important as it is the net overall charge (+,-) on these particles that deposits them onto internal machinery surfaces creating sludge and varnish. Eliminating the charge eliminates this problematic phenomenon. Over time, the improved fluid purity and balanced net charge create an environment where varnish and sludge deposits are removed from internal surfaces into the fluid. The end result is cleaner machinery internals, higher purity fluids and improved performance of critical components.

"Plant management and operators no longer have to be concerned about small particles or worry about internal deposits, rust and corrosion, or chemical flushing. What's more, they will find that ISOPur's technology keeps hydraulic fluids and lubricating oils better than new, year after year without replacement," said Munson.

For additional information about the Agglomerator(TM) and other ISOPur patented fluid purification solutions visit www.isopurfluid.com, call toll-free at (888) 270-9889, or email info@isopurfluid.com. ISOPur is based at 70 Inwood Road, Rocky Hill, CT 06067 with international offices in Italy, China, and Germany. ISOPur also has a worldwide network of sales distribution.

Related