Flowrox Corona™ Nominated as a Finalist for Aquatech Innovation Award 2019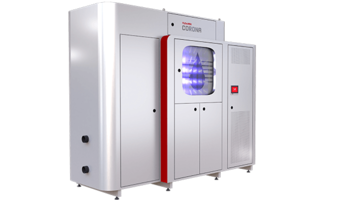 Soon-to-be-launched Flowrox Corona™ is nominated for the Aquatech Innovation Award 2019, in the Waste Water Treatment category. The event is also called "the Oscars of the Water Technology Industry". The winner of the Innovation Award is announced on 4th of November during Aquatech Amsterdam 2019 opening ceremony.
Flowrox Corona is unique, first-of-a-kind industrial water treatment technology that utilizes non-thermal plasma in direct contact with water. The design ensures very large plasma-water contact area and offers efficient removal of pollutants from water; with carefully focused plasma energy, strong oxidants are produced from air and the treated water itself. The solution thus provides effective treatment without oxidative chemicals like chlorine or hydrogen peroxide, bringing lab-scale findings into commercial availability. With no moving parts, the technology is designed for low operational costs and minimal maintenance. The system has been successfully tested for many applications, including disinfection, COD reduction, color and odor removal and destruction of various target pollutants and their transformation products. Flowrox Corona is a safe and environmentally friendly Advanced Oxidation Processe (AOP).
Flowrox Corona is globally launched at Aquatech Amsterdam 2019 expo on the opening day Tuesday 5th of November on Flowrox booth no. 11.305. Dr. Petri Ajo is presenting Flowrox Corona in more detail on AquaStage on Tuesday 5th of November at 16.15.
Meanwhile, to learn more about Flowrox Corona and non-thermal plasma technology, visit our website at https://flowrox.com/product/flowrox-corona/ where among other material you can find a white paper on the topic.
Further information:
Dr. Petri Ajo, Product Line Manager, Environmental Technologies, Flowrox Oy
petri.ajo@flowrox.com tel. +358 50 411 2079
http://persberichten.deperslijst.com/136600/breaking-news-nominees-aquatech-innovation-award-2019-announced.html
Flowrox is Finland based global supplier of flow control, pumping, filtration and environmental engineering solutions, as well as intelligent applications and automation systems. Flowrox focuses on solving problems related to the shut-off, control, pumping and separation of abrasive, corrosive, and other demanding media, and also provides IIoT solutions for various process industry applications, in particular in the mining and mineral sector and energy and environmental sector. 
Flowrox has subsidiaries in Australia, Chile, China, Finland, Peru, Russia, South Africa, Sweden and the United States, as well as a total of over 220 sales representatives in 81 countries.
More from Printing & Duplicating Equipment