Flow Wrap Package suits chocolate tablets and wafers.
Press Release Summary: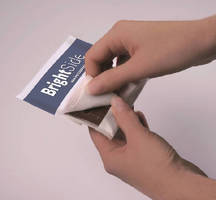 Reclosable for storage of unconsumed food, BrightSide provides immediate access to product on opening. Lap seal can be located anywhere on package and facilitates opening by senior citizens, those less mobile, and children. By eliminating need for tearing, pack style ensures branding; promotional and advertising information printed on package surface remains intact after opening. BrightSide can be used with heat and cold sealing as well as mono film.
---
Original Press Release:

Interpack 2011 Pack Style "BrightSide" from Bosch Improves Product Display Convenience Increases Brand Loyalty



o Particularly suited for chocolate tablets, wafers and multipacks

o Easy open, reclosable flow wrap package

o Lap seal can be located anywhere on package

o Easy integration with existing high-speed horizontal flow wrapping lines

Bosch Packaging Systems, a Bosch Packaging Technology company, has developed the innovative new "BrightSide" pack style for easy opening and reclosing of flow wrap applications that will be displayed at Interpack 2011 in Düsseldorf. The package enhances product presentation for increased shelf appeal and ensures consumer convenience and sustainability. Bosch's technology allows manufacturers to place a lap seal freely on the top surface of the package, making "BrightSide" particularly suited for chocolate tablets, wafers and multipacks. Bosch developed the new pack style in conjunction with the packaging material supplier Amcor.

The "BrightSide" pack style can be used to differentiate products on store shelves and create consumer brand loyalty through added convenience. Thanks to its lap seal, the "BrightSide" package is easier to open than conventional fin seals that must be pulled apart. The pack style is especially beneficial for senior citizens, those less mobile and children. "BrightSide" is reclosable for neat and easy storage of unconsumed food and provides full and immediate access to the product on opening.

Placing the seal on the top side of the package ensures the consumer's first view is of the top of the product for a more premium experience. By eliminating the need for tearing, the "BrightSide" pack style ensures branding, promotional and advertising information printed on the package surface remain intact after opening.

Manufacturers can update their horizontal flow wrapping lines to accommodate the "BrightSide" pack style. Allowing for product-specific requirements, "BrightSide" can be used with heat and cold sealing as well as mono film. "Store shelves are increasingly crowded. Differentiation through unique packaging can help brand owners capture consumer attention and build loyalty," said senior system engineer Alfred Wipf from Bosch and added: "The "BrightSide" pack style brings a new level of convenience, easy opening and presentation to flow wrapped products without a major product line adjustment." The attractive and user-friendly flow wrap package enhances the brand value without the need to change much in the packaging line.

The "BrightSide" pack style has been nominated for an IF Packaging Award which will be awarded at Interpack 2011.

The Bosch division Packaging Technology, based in Waiblingen (Germany), is one of the leading suppliers in the field of packaging technology. In 16 countries worldwide it develops and produces complete systems in packaging and process technology for the pharmaceutical, confectionery and food industries. Customized system solutions complete the service package. Bosch Packaging Technology's sales and service teams operate worldwide. More information at www.boschpackaging.com.

The Bosch Group is a leading global supplier of technology and services. In the areas of automotive and industrial technology, consumer goods, and building technology, some 285,000 associates generated sales of 47.3 billion euros in fiscal 2010. The Bosch Group comprises Robert Bosch GmbH and its more than 350 subsidiaries and regional companies in over 60 countries. If its sales and service partners are included, then Bosch is repre¬sented in roughly 150 countries. This worldwide development, manufacturing, and sales network is the foundation for further growth. Bosch spent 3.8 billion euros for research and development in 2010, and applied for over 3,800 patents worldwide. With all its products and services, Bosch enhances the quality of life by providing solutions which are both inno¬vative and beneficial.

Bosch is celebrating its 125th anniversary in 2011. The company was set up in Stuttgart in 1886 by Robert Bosch (1861-1942) as a "Workshop for Precision Mechanics and Electrical Engineering." The special ownership structure of Robert Bosch GmbH guarantees the entrepreneurial freedom of the Bosch Group, making it possible for the company to plan over the long term and to undertake significant up-front investments in the safeguarding of its future. Ninety-two percent of the share capital of Robert

Bosch GmbH is held by Robert Bosch Stiftung GmbH, a charitable foundation. The majority of voting rights are held by Robert Bosch Industrietreuhand KG, an industrial trust. The entrepreneurial ownership functions are carried out by the trust. The remaining shares are held by the Bosch family and by Robert Bosch GmbH.
Additional information can be accessed at www.bosch.com, www.bosch-press.com, and www.125.bosch.com.

More from Machinery & Machining Tools