Flow Tester handles small powder samples without any problems.
Press Release Summary: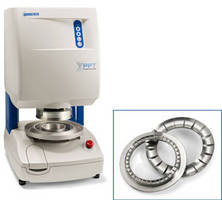 Powder Flow Tester, suited for testing expensive powders or those that are difficult to handle, offers Small Volume Shear Cell, which requires 43 cc of powder and can generate consolidation stresses that simulate conditions in larger bins and silos. Facilitating accelerated analysis of powder behavior in industrial processing equipment, tester also lets operator characterize new formulations for flowability and adjust composition to match flow behavior of established products.
---
Original Press Release:

Brookfield Powder Flow Tester Small Samples . . . No Problems!



Brookfield's revolutionary Powder Flow Tester now offers a solution for small powder samples. Perfect for pharmaceutical formulators who test expensive powders in limited quantities, the new Small Volume Shear Cell requires only 43cc of powder. Other good candidates include materials which are difficult or messy to handle, such as powdered inks. The Small Volume Shear Cell has an added technical performance advantage, namely the ability to generate higher consolidation stresses, which simulates conditions in larger bins and silos.

The Brookfield PFT Powder Flow Tester provides quick and easy analysis of powder flow behavior in industrial processing equipment. The PFT allows technicians to QC check incoming materials and evaluate how powders will discharge from storage containers. The operator can also rapidly characterize new formulations for flowability and adjust composition to match the flow behavior of established products.

Brookfield's PFT and the new Small Volume Shear Cell, visit http://www.brookfieldengineering.com/products/pft/powder-flow-tester.asp

Related