Flow Sensors utilize paddlewheel technology.
Press Release Summary: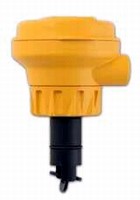 Suited for fluids ranging from ultrapure water to harsh reagents, Signet 2537 Series blind flow sensors are available with polypropylene or natural PVDF body materials and install in pipe sizes from 0.5-0.8 in. Units offer flow range of 0.3-20 fps, repeatable output of ±0.5% of max range at 77°F, and input frequency of 1-1,000 Hz. Output options include digital S3L data link or 4-20 mA, dry contact or solid state pulse divider, or dry contact or solid state flow switch.
---
Original Press Release:

Next Generation Paddlewheel Flow Sensor Reduces System Costs



TUSTIN, Calif. - June 16, 2006 - GF Piping Systems has added the Signet 2537 Paddlewheel Flow Sensor Series to its broad line of flow monitoring and process control instrumentation. These blind flow sensors combine Signet's proven paddlewheel sensing technology with a variety of output options in a single unit that reduces overall system costs by eliminating the need for unnecessary components. Output options include 4-20mA, pulse divided, Signet S3L data link and several other output configurations for complete control versatility. Typical applications include water and wastewater treatment, chemical processing, and pump protection.

"OEMs will find the new Flow Sensor Series particularly attractive cost-wise," said Dave Vollaire, GF Piping Product Manager. "If they're tying it into a PLC, they already have the display, they don't need to pay for additional unnecessary displays."

The 2537 Flow Sensor Series is offered with six different output versions and a variety of body and rotor pin materials for complete user flexibility. Material choices include Polypropylene and PVDF for excellent corrosion resistance and maximum purity with fluids ranging from ultrapure water to the harshest reagents. The unit can be ordered with digital S3L or 4 to 20 output, dry contact or solid state pulse divider, or dry contact or solid state flow switch.

Using the digital S3L model, flow sensors can be connected to GF Piping's Signet 8900 Multi-Parameter Controller to expand the number of flow inputs from two to six. The 8900 allows further functionality by enabling set up in the field for AC or DC operation with up to four analog outputs and up to eight relays. The 2537's 4-20mA output model can be connected to Chart Recorders, PLCs, or any device that requires a 4-20mA signal, providing a versatile all-round solution to a wide range of flow monitoring application requirements. The Flow Switch Model uses a relay to allow for Hi or Lo alarm operation requirements, while the Pulse model can be set for Divider mode to accommodate low frequency input devices, or the Total mode to act as a traditional pump pulser.

The new Flow Sensor Series is available with either PP (polypropylene) or natural PVDF (polyvinylidene fluoride) body materials and installs into pipe sizes from 0.5" to 0.8" (DIN 15 to DIN 200). Performance characteristics include a wide dynamic flow range from as low as 0.3 feet per second to 20 feet per second (with repeatability of +0.5% of reading). All models feature a highly repeatable output of ±0.5% of maximum range at 25°C (77°F) and an input frequency range of 1 Hz to 1000 Hz. Superior linearity of ±1% reading provides excellent performance in harsh environments. Additional features include averaging and sensitivity settings that work around erratic flow rate deficiencies.

Related