Flow Sensor monitors laminar flow in cleanrooms.
Press Release Summary: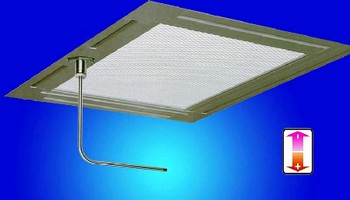 Based on thermal anemometer, Model SS 20.415 measures flow velocity in 2 directions and detects flow direction. Housing consists of 9 mm dia stainless steel pipe that contains all electronics and can be sterilized during operation with alcohol or hydrogen peroxide. Unit offers measuring ranges of 1 or 2.5 m/s and starts measuring from velocity of 0.05 m/s. Equipped with Cleanroom Quick Mounting System, sensor provides outputs of 0-2, 0-5, and 0-10 V as well as 0-20 and 4-20 mA.
---
Original Press Release:

New SCHMIDT Flow Sensor SS 20.415



The new SCHMIDT Flow Sensor SS 20.415 is a highly specialised sensor for laminar-flow monitoring in cleanrooms. The sensor is based on the principle of a thermal anemometer and can measure the flow velocity in two directions and can precisely detect the flow direction. The housing of the sensor is a thin stainless steel pipe measuring only 9 mm in diameter. The com-plete electronic -based on a microprocessor- is located inside this small pipe. The sensor is ro-bust due to a metal chamber in which the sensing element is protected against impacts. Beneath the analog output this sensor offers two digital outputs to indicate the flow direction and that flow reaches a preselected switching level. The SS 20.415 comes with the treasured SCHMIDT Cleanroom Quick Mounting System. This is a mounting adaptor made of stainless steel, which is mounted onto a wall or ceiling. After inserting the sensor into this adaptor the sensor gets auto-matically into the right position in regard to the filter outlet. As there is no separate electronic module, mounting or dismounting can be made within seconds. SCHMIDT offers the mounting adaptors in different versions fitting to all standard cleanroom ceiling systems. The sensors housing is completely tight and can be sterilized during operation with alcohol or hydrogen per-oxide. Significant is also the fact, that the sensor starts to measure from a velocity of 0,05 m/s. SCHMIDT operates also a high precision wind tunnel and thus offers a calibration certificate for this sensor which is traceable to national standards.

Applications:
Laminarflow monitoring in cleanrooms of pharmaceutical production, fine chemical production, semiconductor industry, optical industry and nutrition industry. Designed to be directly mounted under filter ceilings, flow boxes and inside of isolators.

Technical data:
Design: Immersion sensor with attached transformer
Measuring principle: Thermal anemometer
Application: Free flowing, directed air
Measuring ranges: 1 or 2.5 m/s
Start of measuring: 0.05 m/s
Reaction time: 10 ms to 10 s (T90)
Mounting: Quick mounting system with 5 different adaptors fitting to usual cleanroom ceiling systems, mountable in wall or ceiling
Power supply: 12 ... 24 VDC / less than 10 mA
Outputs: 0..2 V / 0..5 V / 0..10 V / 0..20 mA / 4..20 mA
- 2 Open collector outputs for direction and limit detection
- RS 232 for programming

Product advantages
SCHMIDT Cleanroom-Quick-Mounting System for very quick mounting and demounting.
Robust design, sensor element protected against impacts by a chamber tip.
Can be sterilized during operation by alcohols or H2O2
No drift, no re-adjustment onsite.
Detection of reverse air flow
Electronic integrated in sensor pipe
= reduces installation costs

Availability: now

Manufacturer
SCHMIDT Technology GmbH,
Feldbergstr. 1
78112 St. Georgen,

Customer contact
SCHMIDT Technology GmbH
Feldbergstr. 1
78112 St. Georgen,
Tel.: +49/7724/899-0
Fax:+49/7724/899101,
Email: info@schmidttechnology.de,
Homepage: www.schmidttechnology.de

More from Machinery & Machining Tools