Flow Rack System features tool-less adjustable shelves.
Press Release Summary: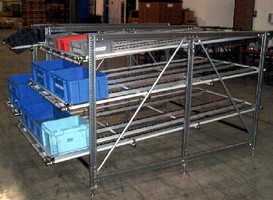 Offering max load capacity of 2,200 lb., Storage/Flow Rack System conveys containers and parts to workstations, assembly points, machine loading posts, and kitting locations. Each upright is pierced every ¾ in. to accept J-hook on which shelving supports are suspended. Frames of shelves are fabricated pipe sections that provide flexibility to make changes. Side frames are available in depths of 48, 60, and 71 in., and each shelf provides up to 440 lb load capacity.
---
Original Press Release:

Creform® Introduces Quick-Adjust Storage/Flow Rack System



Creform® Corporation keeps its team of product research and application specialists busy, as evident with their recently introduced adaptive material handling and storage system product. The new product line is a unique flow rack design that features tool-less adjustable shelves for quick and easy changes. The units convey containers and parts to workstations, assembly points, machine loading posts, kitting locations and other points-of-use. Like all Creform material handling concepts, the new rack system was developed with high degrees of agility and adaptability to help promote lean manufacturing techniques and allow users to strive for continuous improvement in their operations.

Unlike traditional Creform System structures, however, the quick adjust racks are a hybrid of the original Creform components which consists of round pipes, joints and hardware accessories and the new basic side frame elements, which include uprights fabricated from formed and perforated steel tubing. Each upright is pierced every 3/4" to accept a J-hook on which the pipe-constructed shelving supports are suspended. By simply lifting up and pulling outward on the hook, the support hardware is easily removed and relocated up or downwards in seconds.

The frames of the shelves are fabricated from Creform System pipe sections, which provide a high level of flexibility and economy to make changes if future requirements warrant modifications. In addition, by utilizing traditional Creform pipe and joint components, current customers can make use of their existing inventory to build the shelves for these racks.

Typically, the hook supports for a given shelf space are staggered-for example, lower at the front of the rack than at the back-to make the unit a gravity-roller flow rack. With available Creform System accessories such as 'skatewheel' style or 6" to 15" wide roller conveyor sections mounted within the shelf framework, containers roll easily to the point of use for FIFO presentation. This adaptability also means that one conveyor shelf could be angled from the front to the back of the rack unit, near aisles, for example, to provide a convenient empty container return level.

The new design side frames are available in three depths with 1200mm, 1500mm, and 1800mm sizes (« 48", 60" and 71"). Each shelf provides up to 440 lbs (200 kg) load capacity while the maximum load capacity per rack is 2,200 lbs (1000 kg). Each side frame is given a corner-to-corner bracing to provide additional strength and rigidity. Applications requiring wide rack sections may be resolved using the Creform hybrid rack system simply by adding more side frames. Side frames are joined to one another and added by using Creform's 032mm pipe as cross beams along with hardware joints that attach to the vertical members of the formed steel side frames and tighten on the end of the beam pipe sections.

The new Creform quick adjust rack system's available components include pre-assembled side frames or as individual pieces, connector hardware for assembling frame components, four styles of 032mm pipe-to-upright connectors, the J-hook pipe supports, end caps that fit inside the rectangular uprights and either adjusting feet or two styles of swivel casters. For the shelving frames, the full complement of Creform pipes, joints, and hardware items, in addition to the conveyor sections, are available to custom configure each rack and/or individual shelves to specific requirements. The auxiliary hardware accessories provide solutions for specific functions...stops, hinges and latches, clamps and mounts, springs, tool holders, and more.

For ease of construction, the original Creform System consists of plastic-coated steel pipe sections that are cut to required plan lengths with a manual pipe cutter, a powered pipe cutter or using a band saw or chop saw. For assembly, the system utilizes either metal joints that tighten onto pipe sections via a threaded fastener, or plastic joints that are 'welded' to the pipes with adhesive. If part needs change or operations are modified, the use of metal joints allows stands to be disassembled and reconfigured using most of the existing components. In addition to the 'hybrid' flow/storage rack units, other examples of Creform material handling structures include single angle and dual angle flow racks; simple part presentation stands; push carts and trailers; roller conveyors; hinged shelf carts; tilting racks and tables; height adjustable work tables and workstations along with the portable tool cribs and storage units. The Creform System can also be used to implement economical and easy-to-install Automated Guided Vehicle systems for efficient automated material delivery units.

Visit www.creform.com for additional information regarding Creform Corporation, its products and applications.

More from Explosives, Armaments, and Weaponry