Flow Meter uses pitot-tube measurement technology.
Press Release Summary: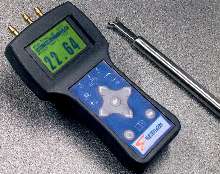 Handheld Model PT Flow Master provides velocity, turbulence, and flow mapping of process-duct and flue-gas airflows. It reports, displays, and logs velocity, volumetric flow or mass flow, gas temperature, and duct pressure of process. Fully configurable unit allows user to perform traverse and sample at given intervals across duct, and log complete mapping of flow pattern. Meter provides Reference Method Testing in accordance with 40CFR60, Appendix A.
---
Original Press Release:
PT Hand-Held Flow Master
Portable hand held flow data logger The PT Flow Master is the ultimate hand held tool for Velocity, Turbulence and Flow mapping of process duct and flue gas airflows. This sophisticated instrument reports, displays and logs Velocity, Volumetric Flow or Mass Flow, Gas Temperature, and Duct Pressure of the process. The Hand Held unit is fully configurable; the user is able perform a traverse and sample at given intervals across the duct, and log a complete mapping of the flow pattern within the duct. The PT Hand-Held Flow Master uses Pitot tube measurement technology and is therefore the ideal tool to perform Reference Method Testing in accordance with 40CFR60, Appendix A. For additional information please contact EPSILON Technologies' marketing department, attention Scott Bell, tel:610 225 0295, fax: 610 989 9121, email: info@epsilontechnologies.biz, 112 Plant Ave., Wayne PA 19087