Flow Divider distributes flow between 2 hydraulic circuits.
Press Release Summary: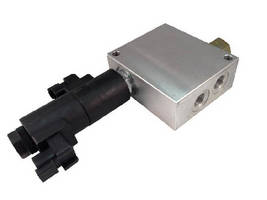 Equipped with built-in pressure compensator, PFD10-OD electro-proportional, normally open hydraulic integrated circuit takes input flow and delivers precise flow management. When there is no current applied to coils, inlet flow is divided equally between work ports A and B, with flows up to 10.7 gpm. Flow ratio between 2 ports will proportionally vary as current is provided to coils. Featuring aluminum manifold design, pre-engineered HIC is optimized for small space claim on vehicle.
---
Original Press Release:

Comatrol Introduces PFD10-OD Proportional Flow Divider



A new way to proportionally distribute flow between two hydraulic circuits

Easley, South Carolina, USA

Comatrol - a global leader in the design, manufacture and sale of engineered hydraulic cartridge valves and HICs - introduces the PFD10-OD Proportional Flow Divider for compensated flow sharing between two motors or hydraulic circuits. This circuit-saver solution takes the input flow and delivers precise flow management, providing engineers with a new tool for distributing flow on their applications.

The PFD10-OD is an electro-proportional, compensated, normally open, flow dividing, pre-engineered HIC. When there is no current applied to the coils, the inlet flow is divided equally between the work ports A and B, with flows up to 40 LPM (10.7 GPM). The flow ratio between the 2 ports will proportionally vary as current is provided to the coils (from 0 to 40 LPM out each work port). The valve's internal pressure compensation of both work ports provide the precise, repeatable and load-independent flow control to both work ports / circuits.

Emanuele Vezzani, Comatrol Account Manager (Italy), shares, "We originally created this product for a unique customer application, building off our existing products and circuit expertise, and in the end came up with a design that we feel can find many homes with our customers. As we've shared this new compensated flow divider concept with customers, applications quickly come to mind where they could apply this pre-engineered solution."

When thinking of where to apply, think of dual circuits or motors that continuously require flow, and need to proportionally manage the amount of flow between them. Additionally, the built-in pressure compensator provides repeatable flow sharing performance, regardless of the loads on the circuits or motors.

The PFD10-OD is a pre-engineered HIC that can be ordered using its nomenclature to specify options needed for the application, like coil voltage and termination, port sizes and seals. The aluminum manifold design is optimized for a small space claim on the vehicle, with 2 mounting holes provided as standard.

The coils are designed for incorporation on machine control architecture that utilizes Sauer‐Danfoss PLUS+1(TM) hardware. Adding PFD10-OD to your application using PLUS+1 GUIDE software is as easy as drag-and-drop.

About Comatrol

Comatrol, a member of the Sauer‐Danfoss (NYSE: SHS) Group, is the most responsive source for Cartridge Valves and Hydraulic Integrated Circuit (HIC) solution needs. Comatrol works with customers and suppliers around the world to manufacture high performance machine control solutions for mobile, on‐highway, energy, and industrial equipment markets.

Additional information is available at www.comatrol.com or follow us on Facebook(TM) at http://www.facebook.com/comatrol

More from Optics & Photonics