Florida School District Saves Money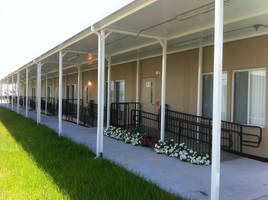 Florida. Orange County Public Schools are busy readying their facilities in preparation of receiving students for the 2014-2015 school year. OCPS utilizes over 2000 portable classrooms affording them the ability to provide facilities within the county's fluctuating demographics.



The school district chose Leesburg Concrete Company, Incorporated's ramp, step and deck systems for their portable buildings which allows them to reuse the access systems year after year dramatically reducing the cost associated with classroom relocation while providing students safe, quiet and attractive access.  LCCI moved an excess of 400 systems off and on classrooms already this summer.  The precast concrete system is not only safe and attractive but is also low maintenance and code compliant meeting all state and federal requirements including wind load. Leesburg Concrete manufactures, installs and relocates the modular precast concrete ramps, steps and decks and accompanying code compliant rails.



Leesburg Concrete Company, Incorporated



Family owned and operated since 1983, Leesburg Concrete Company, Incorporated was first a leading manufacturer of precast concrete steps decks, walkways, landings, and ADA compliant modular precast concrete wheelchair ramps, with steel guard rails, and handrails.  They also manufacture Easi-Set® Buildings, Easi-Span® field assembled large and ultra-large buildings and Easi-Set® restrooms which feature a patented post-tensioning system in the roof and floor, architectural precast cladding panels and precast concrete stairs. LCCI also offers a wide array of custom precast product options.  "We've never had a job that we couldn't handle," stated Kirk Rouse, Vice President of LCCI. This family-owned, American company demonstrates a philosophy of quality and innovation.



Leesburg Concrete Company, Incorporated is a NPCA Certified Plant, focused on meeting the needs of commercial building construction and renovation projects. Their experienced staff provides turnkey service, and it only takes one call to find the solution to your building needs. For more information visit their website at www.leesburgconcrete.com, (800) 882-4177, or KRouse@leesburgconcrete.com.




More from Architectural & Civil Engineering Products