Floor Steam Cleaner Line to Get Discount on Brush Replacements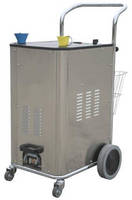 Daimer® plans to discount the prices on brushes for 10 products in the KleenJet® 8000 series of antiseptic machines for foreign markets.

WOBURN, MA U.S.A. -- Daimer Industries, Inc.®, an established vendor of 50 Hz antimicrobial floor steam cleaner equipment, plans to discount prices on brush replacements for 10 products in its 8000 series of industrial systems. Daimer® expects to price three different brush options for about a quarter of what other suppliers charge for brush replacements.

"A tough economy calls for tough tactics to help customers maintain their margins," said Daimer.com floor steam cleaner media representative Matthew Baratta. "We going to sell $2.50 brushes that are comparable to what competitors sell for $20 - almost a 90 percent savings."

Three Brush Styles for the 8000 Floor Steam Cleaner Series

Following its annual customer-needs survey, Daimer® found that many of them were spending more than 75 percent of their post-market budgets on consumables, such as brush replacements. Moreover, institutional customers that relied on a floor steam cleaner machine used close to 100 brushes across a machine's life span. One hundred brush replacements from competing vendors cost some users $2000. With the new pricing, similar brushes from Daimer® would cost $250.

Brush replacements for the 10 KleenJet® 50 Hz CP floor steam cleaner machines will be available with bristles manufactured from three different materials: stainless steel for jobs requiring maximum scrubbing, brass for jobs requiring moderate scrubbing and nylon for jobs for fragile surfaces requiring minimal scrubbing.

Daimer®'s 10 Anti-Microbial Machines

The brushes are for Daimer®'s 8300 and 8700 lines of 50 Hz floor steam cleaner equipment. The 8300 machines offer pressure levels measuring as much as 8.3 bar and temperatures as much as 165°C. The 8700 steam cleaners deliver pressure levels rated for as much as 10.3 bar and temperatures of as much as 197°C. All the machines in both lines include boilers featuring lifetime guarantees and a proprietary Daimer® anti-microbe technology called ATIS®.

For additional information about Daimer® floor steam cleaner products, tile and grout cleaners or floor scrubbers, visit www.daimer.com/steam-cleaners or call Matthew Baratta at (888) 507-2220. The steam cleaner systems are available to customers in most countries in 50 Hz and 60 Hz configurations. Minimum order quantities may apply.

About Daimer Industries, Inc.®: Daimer®, www.daimer.com, is a major supplier and worldwide exporter of the cleaning industry's leading line of KleenJet® steam cleaners/vapor steam cleaners/steam cleaning equipment; Super Max(TM) commercial and industrial pressure washers, including cold water, hot water, and steam pressure washing machines; and XTreme Power® floor cleaners, including carpet cleaners and hard surface cleaners.

More from Packaging Products & Equipment