Floor Machine is Powerful, Effective, Saves Time and Now Green Certified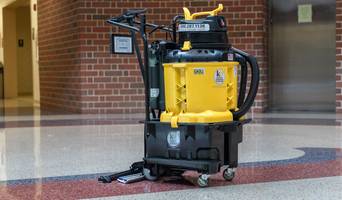 Green Certified by Green Seal®
The Kaivac AutoVac Stretch™ filters, recycles, and reuses cleaning solution up to seven times. This way, it uses 65 percent less water and cleaning solution than competitors.
That's why the AutoVac Stretch has earned Green Seal's Certification of Environmental Innovation based on reduced environmental toxicity, waste minimization, use of verified environmentally preferable products, and conservation of energy and water.
But there's more. The AutoVac leaves floors 60 times cleaner than mopping. This means, cleaner floors, in less time, and Green certified all rolled into one floor machine.
For more information, contact Kaivac at www.kaivac.com, email info@kaivac.com, or call 513-887-4600.
About Kaivac, Inc.
Headquartered in Hamilton, Ohio, Kaivac® delivers complete science-based cleaning systems designed to produce healthy results while raising the value of cleaning operations and the professionalism of the worker. Tackling restrooms, hard surface floors, commercial kitchens, and more, Kaivac cleaning products remove the maximum amount of soil and pollutants in the most cost-effective, environmentally-friendly manner possible. Beginning with No-Touch Cleaning® systems and adding the Green Seal Certified UniVac™ and AutoVac Stretch™, Kaivac continues to innovative highly effective systems and elevate frontline cleaners as the heroes of hygiene. Visit Kaivac.com and connect with Kaivac on Facebook, Twitter, and LinkedIn.
Contact:
Robert Kravitz
President
AlturaSolutions Communications
Phone: 312-880-8176
Email: robert@alturasolutions.com
605 North Michigan Avenue
Chicago, IL 60611
www.alturasolutions.com
Contact This Company Download Spec Sheet
More from Cleaning Products & Equipment