Flood Alarm helps protect valuable equipment or data.
Press Release Summary: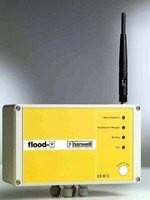 Suited for remote locations, FloodWatch alerts maintenance personnel when there is danger of internal flooding. With ability to store up to 8 telephone numbers, it sends SMS alarm message to programmed numbers once water ingress has been detected, numbers are called in order until response is received. Incorporating watchdog to monitor modem status allows modem to automatically reset itself and reconnect to the network. Unit features GSM modem technology and up to 4 directly cabled flood inputs.
---
Original Press Release:

Save Your Plant and Equipment from Flood Damage with the New FloodWatch



Hanwell Instruments announces the launch of FloodWatch, an innovative new alarm system for alerting maintenance personnel when there is danger of internal flooding. Ideal for remote locations, as well as basements, computer rooms and museums, in fact, any location where there may be a danger of flooding and damage to valuable equipment or data.

FloodWatch comprises Hanwell's own proven GSM modem technology and allows up to 4 directly cabled flood inputs. Having the ability to store up to 8 telephone numbers, once water ingress has been detected an SMS alarm message is sent to the first programmed number. If there is no response the other numbers are called in order until a response is received. The delay time for a response is user programmable. The alarm message contains alarm number, alarm information and site name.

For added versatility, an optional radio receiver can be added to allow inputs from wireless flood detectors. This enables a much wider area to be covered without the disruption and expense of the associated wiring.

What makes FloodWatch unique is the incorporation of a watchdog to monitor modem status. This means that should there be any problem with network connectivity, the modem will automatically reset itself and reconnect to the network. This avoids the communication problems generally associated with off-the-shelf GSM modems.

The FloodWatch units are battery powered, which is user replaceable, with a life expectancy of approximately two years. All set-up is done via the USB interface, using a free and simple software programme.

Further Enquiries:
Derek Richardson.
Hanwell Instruments.
The Pixmore Centre, Pixmore Avenue,
Letchworth, Hertfordshire SG6 1JG.
Tel: 01462 481396
Fax: 01462 473942
E-mail: sales@the-imcgroup.com

Website: www.hanwell.com

More from Electrical Equipment & Systems