Flight Recorders are offered with GPS receiver option.
Press Release Summary: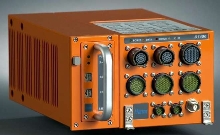 D5000 series flight test or D7000 series mission recorders are offered with 20-Channel L1+L2 GPS receiver that provides DAQ systems with on-board time reference. Offered in signal module package or integrated into recorder mainframes, receiver uses modular signal interfacing and interchangeable media cartridges. Flexible, COTS solution can adapt to changing mission requirements, serving as time synchronization source and providing navigational data.
---
Original Press Release:

Heim Data Systems Introduces Integrated GPS Receivers


Providing Data Acquisition Systems With On Board Time Reference

Heim Data Systems, Inc., a leading supplier of data acquisition equipment, introduces an integrated 20 Channel L1+L2 GPS receiver for Heim's line of high performance airborne recorders. With modular signal interfacing and interchangeable media cartridges, these recorders provide highly flexible, COTS solutions that can easily adapt to changing mission requirements in both airborne and mobile applications.

The integrated GPS receiver provides two functions essential to airborne data acquisition systems. Primarily, the GPS receiver serves as a highly accurate time synchronization source used to generate precision UTC time stamping for the entire range of the recorder's flexible modular signal interfaces. The GPS receiver eliminates the need for stand-alone free running time sources that require 'jam' synchronization at the beginning of every mission. The GPS timing source is used to continuously synchronize the recorder's precision data time stamping electronics and eliminates time inaccuracies due to drift experienced when using free running time sources. The Heim recorder also uses the GPS time information to produce a modulated IRIG B, A, or G time output source that can be used as the master time source to synchronize other instrumentation devices.

In addition, the fast acquisition and re-acquisition receiver provides high dynamic, precision navigational data. The GPS system can be specified for economical single frequency low rate operation or high performance L1+L2 plus WAAS to support high dynamic, high-velocity applications. Accurate navigation solutions are provided one or ten times per-second. The GPS receiver data is also compatible with typical Differential GPS Solution applications. The user has the flexibility to program the specific message output from the wide variety of message types available.

The GPS data is captured and recorded in the IRIG106 Chapter 10 flight data acquisition standard data format. Heim data packet recording technology is recognized as a leader in providing very accurate time base and inter-channel phase accuracy for multiple input channels covering a wide range of disparate signal types. The GPS capability further enhances the recorder's ability to capture data that can be accurately and reliably time synchronized to other mission events during mission data analysis.

The GPS option is available either in a signal module package for plugging into any Heim airborne recorder or it can be integrated into the latest recorder mainframes. Fitted integrally into D5000 series flight test or D7000 series mission recorders, the GPS option provides full functionality without taking up valuable signal interface module slots. The integration of precision GPS data and timing information eliminates the need for bulky stand-alone GPS receivers and time generators, thus reducing the traditional three box solution to a single COTS recorder.

About Heim Data Systems

Heim Data Systems, Inc., a leading supplier of data acquisition equipment, distributes and supports a wide range of industrial, mobile, portable, airborne and laboratory data acquisition systems. These systems provide high quality, off-the-shelf solutions for stand-alone and computer integrated operation, suitable for flight test, range telemetry and general industrial data acquisition.

The company has supplied data acquisition systems to the US Navy, Air Force and Army for test range and operational applications. Heim Data Systems, Inc. has also equipped the automotive and aerospace industries, including Boeing, Lockheed Martin, Ford, Chrysler and General Motors.

Heim Data Systems, Inc. is part of the Zodiac organization, a global company with interests in the aerospace, marine, telecommunications, electronics and information technology markets.

For more information on Heim Data System's complete product line, contact Ginny Decker, Heim Data Systems, Inc. PO Box N, Belmar, NJ, 07719. Telephone (732) 556-2318, fax (732) 556-2319, visit www.heimdata.com, or email marketing@heimdata.com.

Chrissy Timreck
Account Representative
Gray & Rice Public Relations
One Washington Mall
Boston, MA 02108
Phone (617) 367-0100 ext. 117
Fax (617) 367-0160

More from Agricultural & Farming Products