Flight Calculator App supports S-76D(TM) helicopters.
Press Release Summary: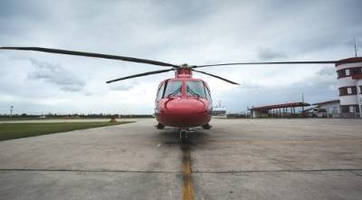 Designed to replicate calculations outlined in helicopter model-specific flight manuals, iFly Sikorsky™ iPad App allows user to configure aircraft, evaluate its weight and balance, and conduct common performance calculations. App offers optimized safety and efficiency because it helps to eliminate potential errors that can result from performing tedious calculations that include factors such as Rotor Ice Protection System, engine anti-ice, and wind conditions.
---
Original Press Release:

Sikorsky to Expand iFly(TM) Application to Include S-76D(TM) Helicopters



STRATFORD, Conn., – Sikorsky Aircraft Corp., a subsidiary of United Technologies Corp. (NYSE: UTX), today announced its expansion of the iFly Sikorsky™ iPad application (app) to include support for S-76D™ helicopters. The iFly Sikorsky app is a flight calculator application that replicates common performance calculations outlined in helicopter model-specific flight manuals. This is the first version of the application that includes the S-76D™ helicopter model.



Sikorsky introduced its first iFly Sikorsky app in 2014, launching this iPad flight calculator on the S-92® helicopter. Sikorsky Innovations, the technology development organization within Sikorsky Aircraft, developed the iFly Sikorsky app under its "Intelligence pillar" - part of the company's three-pillared approach to delivering new technologies in the areas of speed, autonomy and intelligence - with the latter putting a direct focus on improving the safety and reliability of aircraft by making them and their related operations "smarter." The app allows a user to configure an aircraft, evaluate its weight and balance, and conduct common performance calculations.



"The app offers enhanced safety and efficiency because it helps to eliminate potential errors that can result from performing tedious calculations that include such factors as Rotor Ice Protection System, engine anti-ice and wind conditions," said Simon Gharibian, Senior Program Manager for Sikorsky's Intelligence Technologies. "The user interface is designed for pilot use, so it also helps with calculations during changing mission scenarios, such as those that occur during search and rescue."



The iFly Sikorsky application that supports the S-76D aircraft will be available through the Apple App store in April to all customers who have a publications subscription through the Sikorsky 360® support services website at www.Sikorsky360.com.  The purchase of an S-76D helicopter includes three years of publications subscription service.



"There are more than 350 registered users of the current iFly Sikorsky app for our S-92 aircraft, validation that there is a clear customer appetite for this technology," said Leon Silva, Director, S-76® helicopter program. "Now, a year after introducing the iFly Sikorsky app, we are expanding it to our S-76 aircraft customers, keeping their needs at the forefront of our technology initiatives as we explore advanced methods for continuing to evolve the iFly Sikorsky app."



Chris Van Buiten, Vice President of Sikorsky Innovations, added, "This is only a small step for Sikorsky in this area of the field. Future versions will incorporate safety enhancements, such as the full flight manual, plus a customer configurable checklist which includes normal and emergency procedures. We are thrilled with the early success of this feature, and are looking forward to delivering additional 'smart capabilities' that will offer enhanced performance situational awareness."



Sikorsky Aircraft Corp., based in Stratford, Connecticut, is a world leader in helicopter design, manufacture, and service. United Technologies Corp., based in Hartford, Connecticut, provides high technology products and services to the building and aerospace industries.  



CONTACT:

Marianne Heffernan

Office: (203) 386-4373

mheffernan@sikorsky.com



Web Site: http://www.sikorsky.com

More from Machinery & Machining Tools