Flexible Spacers suit varying window manufacturing needs.
Press Release Summary: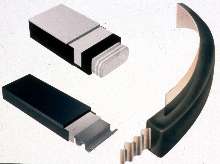 With smooth surface appearance and gray sightline, Insuledge(TM) spacers incorporate flexible, hollow, non-metallic tube design. DuraSeal(TM) multi-layered spacers take advantage of laminates and adhesives to reduce thermal conductivity and provide condensation resistance, continuous moisture vapor barrier, and argon gas retention. Swiggle® Seal spacers, suited for sealing IG units, reduce conductivity of edge seal and provide condensation resistance.
---
Original Press Release:
TruSeal Flexible Spacer Family Offers Window Manufacturers Choices for Manufacturing Versatility
Beachwood, OH - May 2003 - TruSeal Technologies, Inc., a world leader in flexible spacer systems for insulating glass (IG), offers a complete line of unique flexible spacers for varying manufacturing needs. The company's family of high-performance spacers offers window manufacturers a variety of choices based on cost, manufacturing capabilities, thermal performance and energy efficiency. TruSeal's flexible spacer family includes: Insuledge(TM), DuraSeal(TM) and Swiggle® Seal. Insuledge(TM) - The first and only flexible spacer to incorporate a flexible, hollow non-metallic tube design, Insuledge is the warmest flexible IG spacer system on the market today. The hollow core replaces conductive solid or foam materials with better insulating air space for superior thermal performance, better than solid, foam or metal profile spacers. In fact, Insuledge is 50 percent lower in conductivity than the next warmest spacer, thereby offering less condensation and better U-values than other spacers. Insuledge's flexible tube design makes all types of insulating glass fabrication possible and cost effective. No more bending rigid, metal profiles or mixing "u-channel" metal spacers with foam or solid flexible spacers. Insuledge can follow the edge of virtually any shape of IG unit and has a smooth surface appearance and a gray sightline. DuraSeal(TM) - A flexible spacer that adapts to any window design, DuraSeal features a patent pending design that incorporates unique materials and a breakthrough in continuous composite manufacturing processes. DuraSeal takes optimum advantage of laminates and adhesives to reduce thermal conductivity while improving surface and corner appearance over other flexible spacers. This multi-layered spacer system results in improved condensation resistance, warmer edge of glass temperature, a continuous moisture vapor barrier, superior argon gas retention and reduced total window U-value. Swiggle® Seal - TruSeal's original flexible spacer, Swiggle Seal is an efficient and reliable system for sealing IG units. Since its introduction in 1979, Swiggle Seal has been proven to reduce conductivity of the edge seal by 75 percent, provide better condensation resistance and improve edge of glass temperatures compared to aluminum spacer bars. In addition to standard black Swiggle Seal, TruSeal offers Gray Swiggle Seal for a gray sightline appearance, Grooved Swiggle, for decorative window applications and D'S Swiggle for dual seal IG applications using silicone, as with bent glass IG. For more information about TruSeal's flexible spacer family, or to order Insuledge (F8067), DuraSeal (F8054) and Swiggle Seal (F8023) brochures, visit TruSeal's Web site, www.truseal.com. Headquartered in Beachwood, Ohio, TruSeal Technologies is one of the world's leading manufacturers and marketers of insulating glass products. TruSeal produces superior IG flexible spacer systems with consistent after sales service and a comprehensive warranty program that has no equal. TruSeal is listed in the Adhesives & Sealants Industry "ASI Top 50" as a leading supplier to the IG market. Contact: Pat Kreider, TruSeal Technologies. Inc. - 216.910.1532 Scott Hunsberger, Akhia Public Relations - 330.463.5650
More from Fluid & Gas Flow Equipment