Flexible Spacer designed for insulating glass.
Press Release Summary: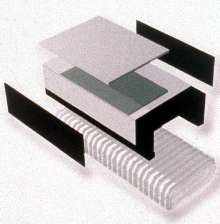 Insuledge(TM) utilizes flexible, hollow, non-metallic, corrugated tube design that replaces conductive solid or foam materials. By offering less conductivity, product exhibits less condensation and increased U values. With smooth surface appearance and gray sightline, it is suitable for all types of insulating glass fabrication and eliminates need to bend rigid, metal profiles or mix u-channel metal spacers with foam or solid flexible spacers.
---
Original Press Release:

New TruSeal Spacer is Warmest in the Industry Today - 50 Percent Lower in Conductivity than the Next Best Warm-Edge Spacer


Beachwood, OH - November 4, 2003 - TruSeal Technologies. Inc., a world leader in flexible spacer systems for insulating glass (IG), recently introduced a new spacer, Insuledge(TM). Designed to meet the needs of window and IG manufacturers who want to combine consumer value with high-performance products, Insuledge uses breakthrough technology to offer a unique tubular design, incorporating a proprietary molding process to manufacture the warmest flexible IG spacer system.

Superior Thermal Performance
Insuledge features a non-metal, corrugated tube, which results in superior thermal performance. The hollow, non-metal core replaces conductive solid or foam materials with better insulating air space. Insuledge is the first and only flexible spacer to incorporate a flexible, hollow non-metallic tube design. This makes Insuledge a better insulator than solid, foam or metal profile spacers.

"Best-in-Class" Condensation Reduction
In fact, Insuledge is 50 percent lower in conductivity than the next warmest spacer. By cutting the conductivity of the best warm-edge spacers in half, Insuledge offers less condensation and better U values than any other spacer available today. Insuledge's "best-in-class" condensation reduction offers the manufacturer another maximum marketing advantage.

One Spacer System for Optimum Aesthetics
Insuledge's flexible tube design makes all types of insulating glass fabrication possible and cost effective. No more bending rigid, metal profiles or mixing "u-channel" metal spacers with foam or solid flexible spacers. Insuledge can follow the edge of virtually any shape of IG you design.

Insuledge was also designed with consideration to its aesthetics. It has a smooth surface appearance and a gray sightline.

For more information about Insuledge, please contact TruSeal Technologies, Inc., 23150 Commerce Park, Beachwood, OH 44122; 1.888.910.5280; www.truseal.com.

Headquartered in Beachwood, Ohio, TruSeal Technologies is one of the world's leading manufacturers and marketers of insulating glass products. TruSeal produces superior IG flexible spacer systems with consistent after sales service and a comprehensive warranty program that has no equal. TruSeal is listed in the Adhesives & Sealants Industry "ASI Top 50" as a leading supplier to the IG market.