Flexible Line Pipe comes in 8 in. version.
Press Release Summary: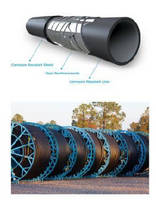 Featuring pressure rating up to 1,500 psi, 8 in. diameter FlexSteel Pipe is designed with helically wound core for failure-free performance. Steel-reinforced spoolable solution, developed with corrosion-resistant technology, performs under grueling cyclic loading environments. It can be installed in all types of terrain with minimal disruption to land and does not require special bedding or handling. Swaged fittings enable connections that are insensitive to cleanliness or ambient temperature.
---
Original Press Release:

FlexSteel Pipeline Technologies Introduces 8-Inch Version of Flexible Line Pipe



The first steel-reinforced spoolable onshore pipe



HOUSTON, -- FlexSteel Pipeline Technologies, manufacturer of the next generation of steel line pipe, announces FlexSteel pipe is now available in 8-inch diameter up to 1,500 psi. The new larger-diameter pipe offers up to 125 percent increased flow rate compared to FlexSteel 6-inch pipe.



The 8-inch diameter FlexSteel was developed with the same helically wound steel core as existing FlexSteel pipe for failure-free performance with the durability of steel and the installation, performance and cost benefits of flexible pipe products.



"The new 8-inch FlexSteel was developed in response to customer requests for a spoolable pipe solution with greater flow capacity," said Brian Anderson, Vice President of Strategy and Marketing for FlexSteel Pipeline Technologies. "The 8-inch product provides all the benefits of our revolutionary spooled pipe to deliver superior lifecycle performance and value."



Developed with corrosion-resistant technology, FlexSteel pipe performs under grueling cyclic loading environments and installs up to five times faster than traditional steel line pipe to provide the lowest total cost of ownership compared to steel. Additionally, the 8-inch pipe has 93 percent fewer connections per mile vs. steel.



FlexSteel can be installed easily and quickly in all types of terrain with minimal disruption to land. It does not require special bedding or handling. FlexSteel's time-tested swaged fittings make for fast, reliable connections that are not sensitive to cleanliness or ambient temperature.



FlexSteel spooled pipe is used in various applications including oil and gas, water, CO2 transportation, and others. For more information, visit www.flexsteelpipe.com/8-inch.



About FlexSteel Pipeline Technologies, Inc.

Houston-based FlexSteel is the pipeline solution primarily used in the oil and gas industry that couples the durability of steel with the installation, performance and cost benefits of spoolable pipe products. Highly corrosion resistant and more durable than other flexible pipe, FlexSteel combines the best features of all currently available pipe options to deliver superior life-cycle performance and value. For more information about FlexSteel, please visit www.flexsteelpipe.com.



Media Contact:

Chau Nguyen

FlexSteel Marketing Manager

Chau.Nguyen@flexsteelpipe.com

832.531.8555