Flexible Hydraulic Workholding Saves Set-up Time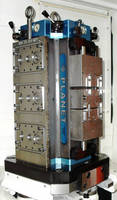 Planet Products Corporation introduces flexible top tooling modules for use on the ProHold series hydraulic vises and vise towers. The flexible top modules along with the base module can act as a vise, fixture plate, hydraulic chuck, or any combination thereof, allowing a quick change, flexible workholding system for various sized work pieces. Although the vise and tower modules are designed for high production applications, the system's flexibility allows lower volume manufactures to benefit from the advantages of hydraulic workholding, with the versatility of modular tooling systems.



•Durable – Production ready

•Flexible - Holds a variety of part shapes and sizes

•Easily reconfigured – Quick changeover



Flexible hydraulic workholding has the speed and durability advantages of dedicated fixtures, with the ability to quickly change configurations as required. Planet's hydraulic vises are double acting and protected from chips with a hardened way cover.



Options:



Vise Jaws – for 1-4 parts/ side, configured to workpiece geometry

Quick Change Fixture Plates, allowing multiple parts per side.

Self-centering 3 jaw chuck modules - up to 2 per side.



For more information, visit www.planet-products.com, email info@planet-products.com, or call (513) 984-5544.



More from Machinery & Machining Tools