Flexible Dosing System supports pharmaceutical applications.
Press Release Summary: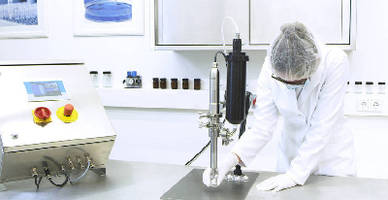 Utilizing volumetric dosing technology based on displacement of fluid by rotor-stator principle, VPHD Pharmaceutical Dispenser enables liquids with different viscosities to be dosed with one device in process-safe manner. Since products are dosed without pulsation or shearing action, system is suited for sensitive pharmaceutical and biotechnological materials. Dispenser covers volumes from 0.2–20 mL and features GMP-compliant hygienic design. Wetted parts can be sterilized at 134°C in autoclave.
---
Original Press Release:
Flexible Dosing Systems Expand Application Fields
Dispensers from ViscoTec's range of pharmaceutical products enable adjustments and scalability from clinical trials to production lines

In pharmaceutical development laboratories and even pharmacies, many different products are filled daily, from liquids and semi-solids to suspensions, for small batches or clinical trials. Due to the constantly changing composition in this phase and consequently the changing physical properties of the fluid, this often presents a problem in the selection of a suitable filling system. In the case of highly viscous materials or suspensions, conventional metering systems such as piston dispensers and peristaltic pumps quickly reach their limits, especially in the precise filling of small quantities. With a flexible dosing system such as the VPHD pharmaceutical dispenser from ViscoTec , liquids with different viscosities can be dosed with one device in a process-safe manner. The user needs to familiarize himself with one, and only one, dosing device which can be used for various applications, for example in the dosing of suppositories, gel-containing products, such as hyaluronic acid, abrasive media such as dental pastes or even sedimenting suspensions.

Due to the volumetric dosing technology based on the displacement of the fluid by the rotor-stator principle, a wide range of different liquids with different properties can be dosed in a process-safe manner: whether it be low-viscosity solvents, highly viscous gels, ointments or suspensions with solid particles. A further advantage of the dispenser is that the products are dosed without pulsation or shearing action. Therefore, sensitive pharmaceutical and biotechnological materials can also be filled safely and carefully. Due to the modular design of this series of dispensers, a wide range of volumes (0.2ml to 20ml) are easily covered. The simple and fast dismantling as well as the GMP-compliant hygienic design allows a quick cleaning of the dispenser. The wetted parts can be sterilized at 134°C in the autoclave.

After the successful development and trial of a product, the dispensers of the pharmaceutical series can easily be "scaled up" and integrated into existing or new production systems.

ViscoTec's Engineering team would be happy to assist you with your first dosing tests at the in-house technical centre.

ViscoTec - Perfectly dosed!
ViscoTec primarily deals in systems required for conveying, dosing, applying, filling and emptying medium to high-viscosity media. The headquarters of the technological market leader is in Töging (Upper Bavaria, in the district of Altötting). In addition, ViscoTec has subsidiaries in the USA, in China and in Singapore and employs about 120 people worldwide. Many traders around the world extend this international distribution network. In addition to sophisticated solutions even in the most complicated tasks, ViscoTec offers all components for a complete application from one source: from procurement, through to product preparation to dosage. This guarantees a successful interaction of all components. All fluids with a viscosity of up to 7.000.000 mPas can be conveyed and dosed almost pulsation-free and with extremely low pressure. For each application there is comprehensive consultation - and where necessary in collaboration with the customer - extensive tests are carried out. ViscoTec dosing pumps and dosing systems are optimally adjusted to the respective application: in food applications, in the automotive, aerospace, medical, pharmaceutical and in many other industries.

Press Contact:
Elisabeth Lenz, Marketing Manager
ViscoTec Pumpen- u. Dosiertechnik GmbH
Amperstraße 13 | 84513 Töging a. Inn | Germany
Tel.: +49 8631 9274-447
elisabeth.lenz@viscotec.de | www.viscotec.de
More from Waste Management & Waste Handling Equipment