Flex Grip: One Closer, four Work Holding Solutions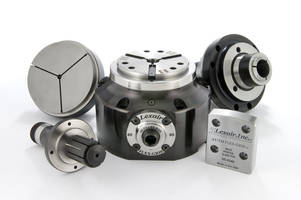 Designed for 4th and 5th axis, rotary indexer and stationary applications, Lexair's Flex Grip reduces set up times with 10-second collet change capability, and .0002-in. part accuracy.
LEXINGTON, KY, November 2017 – Lexair's New Flex Grip closers are designed for versatility and efficiency, and they are proven to boost productivity for a variety of machining operations including 5-axis, rotary indexer and stationary applications. The manual/hydraulic closers are clamped through a screw pump with a spring return opening. A parts stop disk is inserted and removed from the top to eliminate the need to remove the closer from the mounting base. The closers can also be equipped to operate under M-code command for fully automated applications.
With the addition of a Hardinge 5C and 16C-tooling adapter, Flex Grip closers can be used with Hardinge FlexC™ collets and Sure Grip I.D. mandrels, 5C and 16C collets, as well as 5C and 16C step chucks, providing four working holding options in one collet.
Flex Grip closers are available in sizes of 65mm and 80mm and grip force up to 21,600 lbs. at 65 lbs./ft. The collets can be custom-fitted to nearly any application, and according to Lexair, testing has yielded .0002-in. part accuracy, with ± .020-in. range on part diameter and a 10-second collet change.
"With the addition of these tooling adapters, the 65 and 80 mm Flex Grip closers are some of the most versatile work holding solutions of their kind," said Steve Breslin, National Sales Manager, Lexair. "We've checked all the boxes: easy to setup, easy to use, excellent part results."
To learn more about Flex Grip and other Lexair work holding solutions, visit Lexairinc.com or call 859-255-5001.