Global Positioning Systems (GPS)
Fleet Management Software is designed for mobile platforms.
Press Release Summary: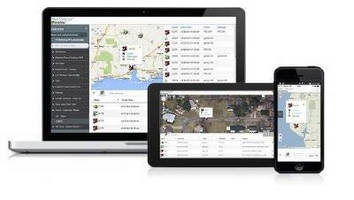 As element of Fleet Director® software platform, GPS Viewer is built in HTML5 and designed for fleet managers who want updates on location of vehicles and operators from smartphone or tablet. Fleet management capabilities are supplemented by supervisory features, such as real-time location tracking via Google Maps, while interactive map lets users zoom into live vehicle locations, routes, and customer sites. Also, interactive notification bar lets managers view log of all incoming alerts.
---
Original Press Release:

Teletrac Inc.® Launches Mobile-Friendly GPS Platform for All Devices and Browsers



GARDEN GROVE, Calif. – Teletrac Inc., a 25-year veteran award-winning GPS fleet tracking and telematics software provider, is pleased to announce the release of its newest mobile web platform.



GPS Viewer, an element of Teletrac's data-rich Fleet Director® software platform, is now accessible to fleet managers from any mobile device browser. GPS Viewer was designed for the fleet manager on-the-move who wants updates on the location of his vehicles and operators from his smartphone or tablet.



The mobile web platform, built in HTML5, delivers an arsenal of fleet management capabilities to users. The system is packed with familiar supervisory features, such as real-time location tracking via Google Maps. Managers can also view their vehicles' engine status, including idle and stationary time in addition to receiving instant alerts about fleet activity--all on an interactive, user-friendly dashboard.



"We are excited to release GPS Viewer to further enable productivity for fleet managers in the field. This is a first step in a mobile-friendly Fleet Director solution on any Android, iOS or Windows device," said Sid Nair, Director of Product Management, Teletrac.



The advanced mobile GPS platform is built with complete fleet administration in mind. The platform's interactive map allows managers to zoom into live vehicle locations, routes and customer sites, assuring that jobs are completed efficiently and on time. GPS Viewer also comes equipped with an interactive notification bar, enabling managers to view a useful log of all incoming alerts, including targeted vehicle statuses and exceptions.  GPS Viewer is also equipped with a "Where Am I" locator that centers a user's location to their fleet; this capability empowers managers to view where they are in real-time in relation to their vehicles.



"Teletrac is bringing its mobile web platform to the next level of tech-savvy fleet management," said Michael Jarvinen, Vice President of Marketing, Teletrac. "We are excited to launch a product that is easily functional on any mobile device and browser, helping to simplify fleet management."



About Fleet Director and Teletrac Inc.

Already proven and trusted by more than 20,000 fleets of all sizes and tracking more than 250,000 vehicles in 87 countries, Teletrac's Fleet Director software solution saves fleet owners time, money, and reduces their carbon footprint. Teletrac customers report up to 30% lower fuel usage, an average of 15% less driver overtime, 12% higher productivity and less unauthorized vehicle use. Teletrac Inc. is headquartered in Garden Grove, CA. For additional information, visit http://www.teletrac.com/ or call 1-800-TELETRAC.



CONTACT:

Dennis P. Jaconi

djaconi@teletrac.com

(310)-629-6536

More from Fluid & Gas Flow Equipment