Flat Panel Monitors offer brightness of 350 cd/m².
Press Release Summary: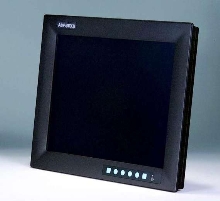 Model FPM-2150GA and resistive touch-screen Model FPM-2150GA-R are 15 in. industrial flat panel monitors, which comply with NEMA4/IP65 standard. Metal enclosures enable them to be panel-mounted, rack-mounted, and VESA mount compatible. Both models offer backlight lifetime of 50,000 hr and will survive ambient temperature up to 50°C.
---
Original Press Release:

Advantech Upgrades 15-Inch Flat Panel Monitors


Brighter, longer life for the new FPM-2150GA and FPM-2150GA-R

Cincinnati, Ohio (February 23, 2005) - Advantech Corporation, Industrial Automation Group announced today that their line of 15-inch flat panel monitors, part number FPM-2150G, is being phased out and replaced with a brighter, longer lasting model, the FPM-2150GA. The resistive touch-screen model, FPM-2150G-R, has also been upgraded.

FPM-2150GA and FPM-2150GA-R are ruggedized industrial flat panel monitors which comply with the NEMA4/IP65 standard. Their metal enclosures enable them to be panel mounted, rack mounted & VESA mount compatible. The FPM-2150GA and FPM-2150GA-R will survive ambient temperature up to 50 degrees Celsius, far-beyond commercial-type plastic flat panel monitors.

The FPM-2150GA and FPM-2150GA-R have been upgraded to a brightness of 350 cd/m2 (from 250 cd/m2 in previous models), and a backlight lifetime of 50,000 hours (increased from 30,000 hours). The form-factor of the new products is the same as the old, so direct-replacement is easy for system integrators with projects using the phased-out model.

"Engineers are using our displays in more varied environments everyday," says George Liao, HMI Product Manager for Advantech, Industrial Automation Group. "We felt this upgrade was necessary to stay competitive in the ever-growing industrial HMI market."

The FPM-2150GA has a list price of $1,115 and the FPM-2150GA-R (resistive touch-screen model) has a list price of $915. Both are available for purchase directly from Advantech by visiting eAutomationPro.com.

This product is available for purchase directly from the manufacturer at eAutomationPro.com and from Advantech's network of North American distributors. For more information or to locate an Advantech distributor, visit eAutomationPro.com.

Advantech Corporation, Industrial Automation Group - Founded in 1983, the Industrial Automation Group of Advantech Corporation is the only complete PC-based Industrial Automation Solution Manufacturer offering products such as Industrial PCs, Workstations, Panel PCs, Flat Panel Monitors, Heavy Environmental PCs, Customized PCs, Single Board Computers, Data Acquisition & Control Devices and Web-enabled products for a wide array of industries. Drawing on the talents of more than 1,800 people, Advantech operates an extensive sales and marketing network in 16 countries and 35 major cities to deliver fast time-to-market services to our worldwide customers. Today Advantech offers over 700 products and solutions, adding 30 new products each year. US operations for the Industrial Automation Group are based in Cincinnati, OH (877-294-8989). Address: 1320 Kemper Meadow Drive, Suite 500, Cincinnati, Ohio 45240. Web: eAutomationPro.com. Email: info@eAutomationPro.com

Brandon Rhoten
Advantech Corporation, Industrial Automation Group
phone: (513) 742-8895 x333
fax: (513) 742-0554
web: eAutomationPro.com
media info: http://www.advantech-eautomation.com/media

More from Optics & Photonics