Flat Panel Monitors have stainless steel housing.
Press Release Summary: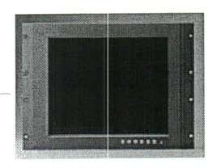 Stainless Steel FPM Series feature bezels that are corrosion resistant and conform to NEMA 4X rating. Model FPM-3150 provides 15 in. XGA TFT LCD with 1024 x 768 resolution, model FPM-3175 offers 17 in. SXGA TFT LCD with 1280 x 1024 resolution, and model FPM-3190 provides 19 in. SXGA TFT LCD with 1280 x 1024 resolution. All monitors enable direct VGA signal transmission, allowing regular VGA control card to be used. VESA patterns allow mounting on wall, arm, and panel.
---
Original Press Release:

Advantech's Stainless Flat Panel Monitors


A perfect solution for Food and Pharmaceutical Markets

Cincinnati, Ohio - Advantech couples the unique qualities of stainless steel with the durability of its industrial flat panel monitors to offer a perfect solution for the food and pharmaceutical markets.

With monitors ranging from 15 inches to a generous 19 inches, Advantech's new stainless steel FPM Series provides a solution that is both hygienic and robust. These easy-to-clean stainless steel bezels are corrosion resistant and provide the assurance of a NEMA 4X industry rating.

Three sizes are being offered, including a 15-inch version, Advantech's FPM-3150. Featuring an XGA TFT LCD with 1024x768 resolution, the high-luminance display provides 350 NITs of brightness. An optional resistive touch screen is also available.

Advantech's FPM-3175 provides a 17-inch SXGA TFT LCD with 1280 x 1024 resolution. It includes a multi-scan function, supporting SXGA, XGA, SVGA, VGA, and text mode. The multi-signal input supports VGA, DVI, Video and S-Video. The unit is available with an optional resistive touch screen.

For outstanding viewing ability, consider the FPM-3190 with 19-inches of viewing area and a SXGA TFT with 1280x1024 resolution. The FPM-3190 offers multi-scan function and multi-signal input supporting VGA, DVI, Video and S-Video. A capacitive touch screen version is also available.

All monitors offer direct-VGA signal transmission allowing a regular VGA control card to be used. On-screen display functions provide customers the ability to adjust images with ease. All monitors have VESA mounting patterns and can be used on wall, arm and panel mounting applications.

Advantech's combination of industrial strength and stainless steel make the FPM Series the perfect solution for harsh industry applications. The FPM Series continues to be available with a standard aluminum bezel for applications not requiring stainless steel.

Advantech Automation is the leading global ePlatform service provider integrating web-based hardware and software technology,
solutions, and customization services that empower the connected eWorld. Advantech cooperates closely with system integrators to
help them add value to meet stringent requirements from customers in a wide array of industries. Advantech delivers more than 450 products and solutions under 4 main categories: industrial I/O and communication, computing platforms, single board and panel computers, along with peripherals and components. Drawing on the talents of more than 1,800 people, Advantech operates an extensive sales and marketing network in 16 countries and 35 major cities to deliver fast time-to-market services to our worldwide customers.

Please visit us at advantech.com/ia for more information, or email info@advantech.com, call our Call Center at: 877-294-8989.