Flat Panel Monitors feature 4-stage power management.
Press Release Summary: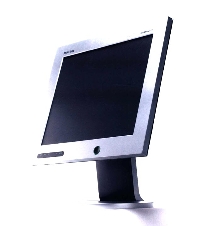 SyncMaster(TM) 151P and 171P monitors are Pivot Enabled(TM), and come with swivel bases for switching between portrait and landscape viewing. SyncMaster 171P features Patterned Vertical Alignment (PVA), 170° viewing angle, response times of <25 milliseconds, contrast ratio of 400:1, and max resolution of 1280 x 1024. SyncMaster 151P has contrast ratio of 350:1, response time of <25 milliseconds, and max resolution of 1024 x 768.
---
Original Press Release:

Samsung's Sleek New Flat Panels Handle The Curves In Porsche Style


SAMSUNG'S SLEEK NEW FLAT PANELS HANDLE THE CURVES IN PORSCHE STYLE

Designed By F.A. Porsche, New of Analog/Digital TFTs are Perfect for High-End Consumers and Business Who Demand a Sophisticated Look

Las Vegas, NV -- Ever wish your desktop computing experience was as smooth as cruising in a Porsche? Samsung, the world's number one manufacturer of TFT and CRT displays, turns that wish into reality with the launch of two new stunningly beautiful dual digital and analog flat-panel monitors that feature a unique design by F.A. Porsche. Intended for maximum performance, the new 15" SyncMaster(TM) 151P and 17" SyncMaster 171P are targeted to savvy consumers and corporations searching for the most advanced display technologies with one of the most stylish and practical designs on the market today. Both displays will start shipping in February.

Created for use in open-air business and consumer environments, the slim new P series feature a built-in swivel base design so the display can be rotated 360° for cross-desk viewing. Both the SyncMaster 151P and 171P offer a clean rear cabinet design with input cables routed though the monitor stand instead of the back of the monitor allowing for additional motion of the screen and an even more aesthetically pleasing look. The new displays are ideal for architecturally sensitive, space constrained applications but can also be used in a bank, customer service center or any location where more than one person will be looking at the screen.

According to Rey Roque, Vice President of Marketing, for Samsung's Digital Information Technology Division, (DITD) "Samsung is always searching for new and creative ways to improve upon its line of display products. As the world's leading monitor manufacturer, we have been able to commission F.A. Porsche to design a unique, slim and sexy display that meets the needs of high-end consumers and businesses alike."

The SyncMaster 151P and 171P are Pivot Enabled(TM) and come with a swivel base for instant switching between portrait and landscape viewing. With Pivot, users have full-page viewing capabilities of 8-1/2 x 11 or A4 documents without having to scroll. In addition, both displays are height adjustable, allowing the user to move the screen up or down to best suit individual viewing preferences.

The new P series offers users the option of using either a digital or analog interface for viewing images and text. The Digital Video Interface (DVI) ensures a shaper, cleaner image and a more accurate representation of the original video source. Since video starts out digital in a PC graphics card, the digital output is directly interfaced to the digital input of the LCD panel and always provides the optimum quality image. In addition, no end-user adjustments are required with a digital display, even when randomly changing resolutions.

When used with an analog input, both monitors offers an easy-access, one-button auto calibration system for greater control over the on-screen image allowing for quick proportioning of screen geometry, contrast, brightness and clock-phase. The On Screen Display system features a comprehensive menu of controls, including auto adjustment, color and image size.

The SyncMaster 171P features Patterned Vertical Alignment (PVA), a Samsung patented technology, which incorporates the latest advancements in liquid cell structure that improve the monitor's four major viewing criteria, including viewing angle, brightness, contrast and response time. The monitor sports an extra-wide 170° viewing angle, an extremely fast response time of less than 25 milliseconds, contrast ratio of 400:1 and offers
a maximum resolution of 1280 x 1024. The SyncMaster 151P has a contrast ratio of 350:1 for high brightness and also features a response time of less than 25 milliseconds. The monitor has a maximum resolution of 1024 x 768.

Samsung's latest monitors feature a four-stage (On, Stand-by, Suspend, Off) power management system that complies with the VESA DPMS, NUTEK and Environmental Protection Agency's Energy Star standards. Both displays also meet the stringent MPR-1I
and TCO-99 low radiation standards.

For easy installation and optimum configuration, Samsung's new P series monitors have built-in Plug and Play capability that conforms to the Video Electronics Standards
Association's (VESA) Display Data Channel (DDC) Type 11/2B standards. When used with the appropriate hardware and software, Plug and Play automatically configures the monitor with the host computer and selects the optimum resolution and refresh rates to achieve crisp detail, bright colors and razor sharp images.

All SyncMaster displays are backed by Samsung's three-year parts, labor and backlight warranty as well as live, toll-free technical support 24 hours a day, 365 days a year.

More from Communication Systems & Equipment