Flat Panel Monitor suits general business applications.
Press Release Summary: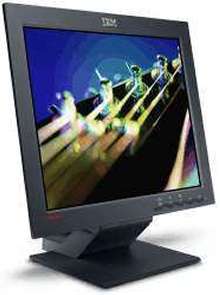 ThinkVision L170 LCD monitor provides 17 in. viewable image size with 1,280 x 1,024 display resolution, 250 cd/m² brightness, and 350:1 contrast ratio. Product incorporates tilt stand, direct access for automatic image setup and brightness, monitor adjustments via on-screen display, and in-stand cable management. Compatible with IBM PC system units, product may be wall or arm mounted and offers ±60° vertical and ±70° horizontal viewing angles.
---
Original Press Release:

IBM ThinkVision L170 Monitor - View Your Images on a Large Screen Featuring ThinkVantage Design


Overview

The ThinkVision L170 17-inch LCD monitor offers the benefits of a flat-panel monitor at an affordable price. It incorporates ThinkVantage design, which enhances usability, making the monitor more intuitive and easier to use and complementing the system design. The ThinkVision L170 is in the Essential category in the ThinkVision family of monitors.

This monitor is best suited for:

o Complex spreadsheets
o Multitasking
o General business applications

Features

o 17-inch (432-mm) viewable image size

o 1280 x 1024 resolution

o ThinkVantage design:

- Tilt stand
- Direct access for automatic image setup and brightness
- Quick and easy monitor adjustments using newly designed on-screen display (OSD)
- Matching design to IBM systems
- Cable management in stand

o Scaling for viewing of full-page images of resolutions less than 1280 x 1024

o Internal power

o Kensington lock-compatible

o Lockable digital controls

o Detachable base for mounting on wall or arm (sold separately) with optional mounting equipment

Benefits

o Improved use of space compared to CRT monitors

o Reduced energy use and heat generation to help lower cooling and power costs compared to CRT monitors

o Compatible with IBM PC system units

o Quick and easy monitor setup

o Wall- or desk-mounting using the optional IBM Radial Arm (not included) or third-party accessories meeting the VESA Flat Panel Monitor Physical Mounting Interface Standard (FPMPMI)

Planned Availability Date
May 9, 2003

At a Glance

The new ThinkVision L170 LCD monitor offers:

o Viewable image size: 17.0 in (432 mm)

o Brightness: 250 cd/m2

o Contrast ratio: 350:1

o Viewing angles

- Vertical: +/- 60°
- Horizontal: +/- 70°

o Display resolution of 1280 x 1024 (automatically scales lower resolution to fill the screen)

o Tilt stand

o Direct access for automatic image setup and brightness

o Analog input (15-pin D)

o Internal power

o 100-mm Video Electronic Standards Association (VESA) standard for mounting

Description

VESA High Refresh Video Signal Timings

The ThinkVision L170 LCD monitor supports a wide range of display modes, including a selection of the VESA timings of incoming video signals at up to 75 Hz (non-interlaced) for the following screen resolutions:

o 640 x 480
o 720 x 400
o 800 x 600
o 1024 x 768
o 1280 x 1024

Appropriate video-adapter hardware and software must be installed in the attaching system unit.

Monitors are compatible with popular IBM PC system units. Refer to ConfigXprt for details.

VESA DDC

The ThinkVision L170 LCD monitor supports the DDC protocol to level 2B. Basic configuration information can be passed to a system unit from its attached monitor. Often referred to as Plug and Play, the protocol enables a DDC-enabled system unit to automatically configure the video adapter to drive the attached monitor at its optimum display mode without end-user intervention. For best use, the attaching system unit must also be hardware- and software-enabled for DDC operation.

The capabilities of the monitor are held in nonvolatile monitor memory in an encoded format. The data is received from the monitor by the system unit during boot-up and system configuration.

The EDID data sent by the monitor to the attached system unit also includes the monitor's serial number and other identification information. This can be held in the system unit until requested; for example, by a department LAN administrator needing to assess the location of all equipment connected to the LAN.

Date information transmitted in the monitor EDID data conforms to VESA EDID standard V2. This requires the year of manufacture (YOM) to be stored in a one-byte field as an offset from 1990 as derived from the following equation:


Value Stored = (YOM - 1990)



YOM        Value Stored



2000            10

2001            11

2002            12

2003            13


International Organization for Standardization
(ISO)IDIS 13406 Part 2

ISO/DIS 13406 Part 2 ensures ergonomic requirements are met when the ThinkVision L170 LCD monitor forms part of an ISO-compliant system. ISO/DIS 13406 Part 2 is an international standard addressing ergonomic factors for flat-panel displays.

ISO-capable elements do not necessarily make an ISO-compliant system when put together. To satisfy the requirements of ISO 13406 Part 2, a complete platform must be tested and must comply with all applicable elements of ISO 13406 Part 2. The platform includes:

o System unit
o Operating system
o Fonts
o Video subsystem
o Monitor
o Keyboard
o Mouse

When all contributing platform components satisfy their portion of the requirements, as verified by the required total system testing, the platform is ISO 13406 Part 2-compliant.

Low Frequency Electromagnetic Emissions

The ThinkVision L170 LCD monitor meets the Swedish Board for Technical Accreditation (SWEDAC) MPR-2 requirements and those of MPR-3. MPR-2 is a guideline developed by the SWEDAC to limit the electromagnetic emissions and electrostatic fields generated by workstations. MPR-3 is the colloquial name for the Swedish Standard SS 43614 90:1995.

Electric and magnetic fields with frequencies between 5 Hz and 2 kHz are called extremely low frequency (ELF) fields. Those with frequencies between 2 kHz and 400 kHz are called very low frequency (VLF) fields.

The Swedish MPR-3 Standard is intended to limit these fields. Sources of these fields include the power cord supplying 50 Hz or 60 Hz power to the monitor.

TCO-99 Compliance

o Environment
o Ergonomics
o Usability
o Reduction of electric and magnetic fields
o Energy consumption
o Electrical safety

VESA Display Power Management Signaling (DPMS)

The ThinkVision L170 LCD monitor meets ENERGY STAR power consumption requirements through implementation of the DPMS protocol. For effective power management, the attaching system unit must also be hardware- and software-enabled for DPMS operation.

Help Ware®

HelpWare is a comprehensive set of service and support offerings for a more productive and enjoyable computing experience. Many HelpWare services are included with the purchase of your IBM PC system, and additional services are available from the HelpWare support family. For detailed information on HelpWare, call the HelpCenter® at 800-772-2227.

Warranty Information

For a copy of applicable product warranties, write to:

Warranty Information
P.O. Box 12195
Research Triangle Park, NC 27709
Attn: Dept JDJA/B203

IBM makes no representation or warranty regarding third-party products or services.

Telephone support may be subject to additional charges, even during the limited warranty period. For IBM machines with on-site labor, IBM will attempt to diagnose and resolve the problem remotely before sending a technician. For IBM machines with EasyServ service, IBM will attempt to diagnose and resolve the problem remotely before sending a courier.

All offers are subject to availability. IBM reserves the right to alter product offerings and specifications at any time without notice. IBM is not responsible for photographic or typographic errors.


                                       ThinkVision

Technical Characteristics              L170 LCD Monitor



LCD size and type                      17-in LCD

Viewable image size (in/mm)            17/32

Maximum viewable area (mm)             338 x 270

Luminance (typical)                    250 cd/m2

Contrast (typical)                     350 : 1

Colors                                 >16 million

Viewing angle (typical)                Horiz = +/-70°

                                        Vert = +/-60°

Chromaticity CIE (x,y)                 Red = 0.63, 0.35

                                       Blue = 0.14, 0.10

                                       Green = 0.29, 0.59

                                       White = 0.31, 0.33

Cell response time (typical)           25 ms

RGB Vertical stripe pixel pitch (mm)   0.264

Non-interlace operation                Yes (all modes)

Multimode operation                    Yes1

Video input (analog maximum) 135 MHz   1280 x 1024 at 75 Hz

Signal cable - analog                  1.8 m      

Video                                  RGB analog + separate H&V syncs

Sync Type 1                            Separate H&V sync

Sync Type 1 signal levels              TTL (High >2.4 V, Low <0.8 V

Sync polarity                          Positive or negative

Video connector                        15-pin D-Sub

Video signal levels                    0.700 Vp-p

Video signal polarity                  Positive = Bright

Video signal impedance                 75 Ohms +/-5% (terminated)

Tilt                                   4° forward

                                       40° backward

Sync Type 3 signal levels              0.3 V

Sync polarity                          Negative only

User controls                          Digital

Lockable controls                      Yes

OSD                                    Yes

OSD languages                          5

Factory-preset display modes           14

User color settings                    3 Preset + 1 User

VESA DDC capable                       2B

ISO 13406 Pt2 capable                  Yes

VESA DPMS power management-capable     Yes

Power supply                           Universal

Power cord -- detached                 1.8 m

JEIDA compliance                       Yes (6734-AB0 only)

FCC B compliance                       Yes

MPR-2 Emission compliance              Yes

MPR-3 Emission compliance              Yes

TCO-99 Environmental Label             Yes

1 Refer to the Hardware Requirements section for details of actual modes supported.

OSD Controls

Digital user controls are located on the front bezel, to the left of the power on/off pushbutton. Adjustments are made in conjunction with the on-screen displays. After adjustments are made, with exception of brightness, contrast, and auto adjust, the controls can be locked to prevent further changes. User setup values are stored automatically. For ease of use, there is direct access for auto setup and brightness.

Monitor controls and features include:

o Brightness/contrast

o Image position:

- Horizontal position
- Vertical position

o Image setup:

- Automatic
- Manual

o Image properties:

- Color
- Scaling

o Options:

- Information
- Menu language
- Menu position
- Factory default
- Accessibility

o Exit

Indicators

The power indicator LED indicates the operational state of the monitor:


Indicator           L170 Operating State



Green LED           Normal operation

Amber LED           DPMS - Off/Standby/Suspend state

Green blinking      Frequency out of range

A "No Connection Check signal cable" message appears in the OSD whenever the monitor detects no incoming video signal.

Accessibility by People with Disabilities

This monitor supports these IBM accessibility attributes for normal and routine end-user operations.

o Usable by people with disabilities without requiring an end-user to attach assistive technology to the product

o Controls and latches reachable and operable with one hand and minimal dexterity

o Push buttons tactilely discernible without activation

o Capable of flicker-free operation when attached to a video adapter and set to flicker-free display properties

o Uses color as an enhancement, not as the only way to convey information or distinguish keys, controls, and labels

o Icons consistent throughout the OSD user interface

o Key repeat rate is adjustable

o Text and objects in the monitor OSD blink no faster than 2 Hz

o User's Guide available in electronic format, viewable from a standard Web browser

Product Positioning

The ThinkVision L170 LCD Essential monitor is part of the IBM flat-panel LCD monitor family. The flat-panel LCD family includes Essential and Performance monitors. Essential monitors include quality products at affordable prices. Performance monitors offer advanced features for improved productivity including analog and digital inputs, lift/tilt/swivel stands, and dual input.


                               Viewable

          Machine              Image       Addressability

Monitor    Type     LCD Size   Size        H x V



Essential



15-inch



T541        9512    15.0-in    15.0 in     1024 x 768

                    TFT        (381 mm)



17-inch



ThinkVision 6734    17.0-in    17.0 in     1280 x 1024

L170                TFT        (432 mm)



Performance



15-inch



T541H       9512    15.0-in    15.0 in     1024 x 768

                    TFT        (381 mm)

T560        6656    15.0-in    15.0 in     1024 x 768

                    TFT        (381 mm)



17-inch



ThinkVision 6734    17.0-in    17.0 in     1280 x 1024

L170p               TFT        (432 mm)



18-inch



T860        9494    18.1-in    18.1 in     1280 x 1024

                    TFT        (460 mm)



20-inch



ThinkVision 6736    20.1-in    20.1 in     1600 x 1200

L200p               TFT        (511 mm)

T221        9503    22.2-in    22.2 in     3840 x 2400

                    TFT        (564 mm)

17-inch Positioning: The L170 monitor delivers high quality at great value. It supports analog system attachment and incorporates a stand that provides tilt adjustment.

The L170p offers dual connectors supporting analog or digital system attachment. It incorporates a stand with tilt/swivel and height adjustment. It offers improved performance with wide viewing angles and high contrast ratio.

Trademarks
HelpWare and HelpCenter are registered trademarks of International Business Machines Corporation in the United States or other countries or both. Other company, product, and service names may be trademarks or service marks of others.